The worst hoarders don't necessarily represent all hoarders: they come in all shapes and sizes, and the things they collect are just as diverse. There are the hobbyists and enthusiasts – those who are content to express their interest in, for example, cars, without letting it take over their lives – and then there are the obsessive shut-ins, the people who collect broken fingernails and stale cigarette butts and live in walled cities made of old newspaper.
There are healthy and unhealthy ways to accumulate a lot of stuff. If you're thinking of starting a collection of some sort, watch out for the dangers of hoarding. If your house looks like one of these you'll know if you've taken it a step too far.
Here's our list of the five worst hoarders ever:
1. Rubber duck fascination
Some people collect books, stamps, or even teddy bears. Charlotte Lee in the US, on the other hand has an impressive collection of rubber ducks.
According to Guinness World Records she has 5,631 different rubber ducks, as of 10 April 2011, which she has been collecting since 1996. Apparently, these ducks take up her entire basement.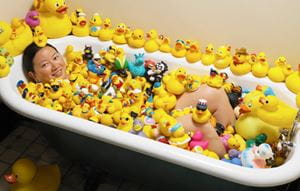 On the other hand, they do make bathtime lots of fun.
2. A love for Christmas
Is it possible to love Christmas too much? Well, if your inflatable decorations take up more space than you have on your lawn, the answer is sadly, yes.
Two of the worst hoarders ever Christy and Steven collected an impressive 5,000 inflatable Christmas lawn decorations. Doing the maths, if each decoration cost about £50, Steven and Christy have spent £250,000 on inflatable lawn ornaments.
3. Crazy cat lady alert
One of the most famous hoarder cases in history Edith Ewing Bouvier Beale (Big Edie) and her daughter Edith Bouvier Beale (Little Edie) lived in East Hampton with their 300 cats. Yes, 300 cats.
A documentary, titled Grey Gardens, which was screened at the 1976 Cannes Film Festival, tells their life story.
The general rule to avoid hoarder status? Stick to a maximum of two cats per person.
4. Impressive art collection
Reclusive artist Bettina Grossman created paintings, sculptures, films and drawings for years, without sharing any of them with the outside world. Instead, she kept it all in her apartment – until the artworks nearly reached the ceiling.
It has been reported that her collection got so out of hand that she later spent most of her time in her front hallway, barely able to squeeze inside her apartment. Luckily, she became friends with a young filmmaker who lived in the same building who then helped her catalogue and exhibit her art.
5. Piles of junk
Look, a bit of junk in your backyard isn't really a problem – so long as you eventually dispose of it. Richard Wallace, however, took this to a completely new level. This man accumulated a junk pile so massive it was bigger than his house and could be seen on Google Earth!
How did he manage this? The pile included several cars, and newspapers spanning over 34 years. Eventually his neighbours had enough and helped him to remove more than 30 tons of stuff.
If you see yourself turning into one of these people – don't let it happen! We have some great decluttering tips, and you can always store some extra items (that you really need to keep) at one of our modern facilities. We'll help you keep your home clean, and your belongings organised and accessible.