Work socials are important. They get you out of the office, help you get to know your colleagues and bring a little bit of fun back into the workplace. But it can be hard to think of new work social event ideas – of course the pub is tried and tested but it's nice to do something different, especially if you work with some people who don't drink.
At Access Self Storage, we understand the importance of bonding with your team members. So, if you're bored of the pub or are simply thinking of a special event for your colleagues, here are some work social event ideas with a twist from Access Self Storage to get you started.
Escape rooms
Mike Smith, manager at Access Self Storage Tower Bridge, believes escape rooms are best for group bonding. Escape rooms are a physical adventure game in which groups of people are placed in a room and have to use elements of the room to solve a series of puzzles, find clues, and work as a team to escape the room within a set time limit.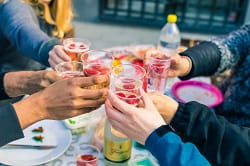 There are loads of different escape room options across the country, including Escape Rooms London Bridge, Escape Live Birmingham and Escape Rooms Durham.
Leeds Castle
Leeds Castle is a personal favourite of Chris Isted, manager at Access Self Storage Orpington. Just an hour from London, Leeds Castle hosts various work dos and activities. It offers on-site accommodation (both luxury and budget) along with meeting rooms, and a number of fun social activities.
Groups can enjoy archery, hawk walks, falconry experiences, Segway tours around the estate in addition to work packages for special event days, such as Motors by the Moat or even Jousting.
There's always plenty for work groups to take up together.
Prices start from £50 per person.
VR team building
Looking for techy corporate event ideas? Fancy playing balance games at the top of a skyscraper? Well, you can – minus the health and safety risks - with virtual reality. Virtual Reality Experiences can transport your team to another part of the planet – or beyond, for that matter! Virtual Reality Experiences has built their own VR exercises for team building activities for 3-4 participants, right the way up to very large groups.
You can book online via the website and even request a free, one-hour taster of the VR experience for your office.
Bring your own dish to the office lunch party
Looking for cheap work social event ideas? Instead of going out and finding an activity, sometimes it's nice to get the team to bring in something that they've made to share together. Everyone has their own way of cooking and if you have a team filled with people from different countries, it can be a nice idea to ask everyone to bring in a home-cooked dish. Or, some offices have enjoyed hosting their own Bake Off tournaments – these can last for many weeks, if you're looking for a long-term social activity.
Hosting these ideas in the office can help when the budget is tight and gets everyone eating lunch together – rather than at their own desks.
Go to the park
If the weather is good, there is no reason to book somewhere to go. Instead, organise a picnic at a park nearby and get a game of rounders or badminton going. These are the easiest socials to organise last minute and can be a drop in event for people straight from work. It's good to buy sports equipment to have ready in the office for the summer time – you can easily find equipment on Amazon, and it often folds away neatly so it doesn't take up too much space in the office.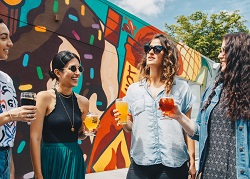 If you want to keep your rounders equipment safe until next summer, we have your storage needs covered. We also provide a range of business services, such as flexible office space, mailboxes and a telephone answering service. Our facilities can be found all over the UK, including Access Self Storage St Albans, Access Self Storage Edmonton and Access Self Storage Mitcham.