Around the world, Wimbledon is synonymous with tennis. The Southwest London district hosts the Wimbledon Championships, the oldest and most prestigious prize in the sport. That makes Wimbledon a hub for tennis players, from world champions to children with big aspirations and people just looking to exercise and have fun with friends.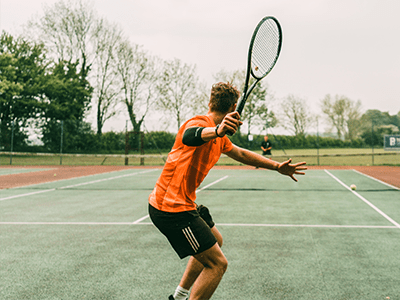 Whatever you're looking for, Wimbledon (the place, not the competition) has plenty of places to play. Here are some Wimbledon tennis courts to consider:
The All England Lawn Tennis Ground
The one and only – it wouldn't be a list of Wimbledon tennis courts if we didn't start with the ones that host the championship. Unfortunately, not just anyone can play on these storied courts. You need to be a member of the exclusive club, which means getting approval from four existing members. Most members are giants of the tennis world, but around 100 junior members – up-and-coming UK tennis talent – are welcomed each year.
If you manage to get in, 18 championship-quality grass courts are available from May to September, 20 grass practice courts and 8 "American Clay" courts. Unfortunately, Centre Court and the Show Courts are only used for the championship.
Members of the public are welcome to appreciate the Wimbledon Lawn Tennis Museum, which commemorates the tournament's remarkable history – it's well worth a visit!
Address: Church Road, London SW19 5AG
Cost and membership: Invitation only
Website: www.wimbledon.com
Phone: 020 8944 1066
And now, back down to Earth with some places where everyday people can play tennis in Wimbledon…
Wimbledon Park Tennis Courts
Right next to the famous All England Club, you'll find an impressive 18 courts within Wimbledon Park. The Wimbledon Park Tennis Courts are run by Merton Council, so all residents are welcome. They may not be as prestigious as their neighbours, but they're well-maintained and perfect for players of all skill levels.
To get involved, you must register for free on the Tennis in Merton website and then use the ClubSpark website to book a court up to seven days in advance. Are you worried about where to store your kit? Don't be – you can rent a locker at Access Self Storage Wimbledon, which is just a few minutes away on foot!
The council also runs a trio of tennis courts within the Nursery Road Playing Fields which use the same booking system.
Address: Home Park Road, London SW19 7HR
Cost and membership: Free sign-up, £12 peak, £9.20 off-peak
Website: www.clubspark.lta.org.uk/WimbledonPark
Phone: 020 8879 0611
Check out our recommendations for the best things to do in Wimbledon!
All Star Tennis – King George's Park
The King George's Park facility is one of six administered by All Star Tennis, and it consists of ten courts in King George's Park, right between the playground and the pond. Free membership to All Star lets you book any of the 28 courts across Wandsworth one day in advance. Those who shell out for Member Plus status can book up to two weeks in advance. All Star also offers courses for young people, most of which take place while school is out.
Address: The Tennis Hut, King George's Park, Neville Gill Close, London SW18 2GJ
Cost and membership: Free sign-up, £12 peak, £8.50 off-peak (less for Plus members)
Website: www.allstartennis.co.uk
Phone: 020 8871 4706
Southfields Lawn Tennis Club
With six well-located courts, Southfields is another excellent option for Wimbledon tennis courts. Despite the club's name, the courts are hard – one is even an artificial clay court, for those aspiring to the French Open – but they are floodlit until 10pm, making them great for after-work matches.
Membership details are available upon request, but there are eight categories to suit a range of budgets and a discount for families of over three people.
Address: Southfields Lawn Tennis Club, Gressenhall Road, London SW18 1PQ
Cost and membership: Available upon request
Website: www.clubspark.lta.org.uk/SouthfieldsLawnTennisClub
Be more with nature by visiting nature reserves in London!
Westside Tennis Club
Located just south of Wimbledon Common, this community-run club welcomes new starters and seasoned servers similar to its 12 Wimbledon tennis courts. There are six categories of membership, each of which offers different access to the facilities, with information available upon request.
Competitive players can join the County and Team leagues, which involve a ladder and weekly training with a coach. Those looking to improve can attend one-on-one or group lessons. Facilities also include a bar and café offering tired players homemade treats.
Address: 20 Woodhayes Road, London SW19 4RF
Cost and membership: Available upon request
Website: www.westsideltc.co.uk/
Phone: 020 8947 4987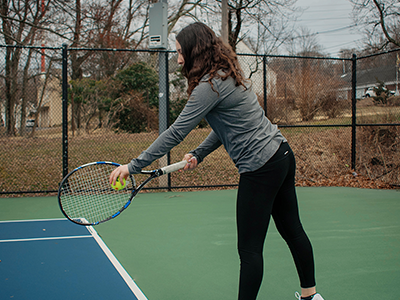 Dundonald Rec Tennis Club
Dundonald Rec is a registered charity dedicated to ensuring everyone can play tennis in Wimbledon. It offers affordable coaching sessions for people of all ages and abilities. Dundonald even works with local schools – on the grounds of Dundonald Primary School – both during and outside the school day to help children get an early start.
Saturday and Sunday club sessions cost extra, but a £50 annual fee for adults gets you free access on any other day of the week.
Address: 40 Dundonald Road, London SW19 3QN
Cost and membership: £50 annually, additional fee for booking courts on weekends
Website: www.dundonaldrectennisclub.org
Phone: 020 7993 6500
Thinking of building your fitness before you hit the courts? Here are the best London running routes!
John Innes Tennis Courts
Set within the park of the same name, the council also runs these four tarmac Wimbledon tennis courts. They're set within hedges and trees, making them a beautiful place to play in spring, summer and autumn – just be sure you bring plenty of spare tennis balls!
Address: Mostyn Road, London SW19 3LL
Cost and membership: Free sign-up, £8 for adults
Website: www.clubspark.lta.org.uk/JohnInnesParkMorden
That's it for our list of Wimbledon tennis courts. We hope you found what you were looking for.
If you're looking for somewhere to keep your tennis rackets and kit bags during the off-season, check out Access Self Storage Wimbledon – it's just a couple minutes from the Wimbledon Park tennis courts!