Would you like a to explore a little more of Guildford and the Surrey countryside? Walking is a great way to do it, and you'll get some exercise too! Whether you're a Guildford local or just visiting for a few days, these walks near Guildford will give you a new perspective on this historic town.

Here are Guildford walks you absolutely have to try.
1. Guildford town and river walk
This walk will enable you to leave the hustle and bustle of the town centre behind and experience true tranquillity in the River Wey Valley. The walk, recommended by the Access Self Storage Guildford team, starts at the Cornmarket Portico and only takes 30 minutes to an hour, so it's short enough to bring the kids along!
You'll walk over the town bridge built on the site of the Golden Ford, which gave the town its name. Be sure to stop off at The White House pub where you can grab a drink or a bite to eat during a well-earned break.
See the full details of the walk here and check out their Twitter page for other Surrey hills related news.
2. The Mount
If you're looking for dog walks, the second of our walks near Guilford - The Mount - is a great option. A picturesque grassland area one mile west of the Guildford town centre, the Mount boasts impressive ash and oak trees in Henley Wood, and has the best views of the town and surrounding area. If you're a flower enthusiast, the area is also known for its abundance of vibrant purple and pink Pyramidal Orchids.

On your walk, keep your eyes peeled for the commemorative stone marking the date the county was overrun by 15,000 Cornish rebels heading for London. This resulted in a brief battle just outside Guildford at Gil Down in June 1497.
See the full details of the walk here.
Need somewhere to store your walking gear? Access Self Storage Guildford is nearby and offers short and long term storage, as well as vehicle storage and business services.

3. St Martha's Hill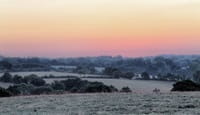 If you're looking for a walk with a view of Surrey, then St Martha's Hill is one of the best walks near Guildford around.

This walk, recommended by the team at Access Self Storage Byfleet, will take you past the iconic St Martha-on-the-Hill church. During the Middle Ages, this landmark was reported to be a stopping-off point for pilgrims on their way to Canterbury Cathedral. Once you've reached the church you'll enjoy great views of Guildford and the Tillingbourne Valley overlooking the villages of Chilworth and Albury.
4. Stoke Park

Stoke Park is the largest park in Guildford. It's got something for everyone – a children's playground, model boating ground, skate park, mini golf, paddling pool and fitness trail. With a vast amount of green space and a Green Flag Award to boot, this is the ideal spot for a nice walk about with the family.
5. Winkworth Arboretum
If you like botanical gardens, you'll love walking around Winkworth Arboretum. With walks suitable for all ages and abilities, the whole family can explore the magnificent landscape with more than 1,000 different shrubs and trees.
To help you find your way, the Arboretum has three marked routes: a blue 'Access for All' walk, a yellow 'Taste of Winkworth' walk and a red 'Challenging' walk. Just look out for the colour-coded posts as you explore.
You can also join a free guided walk on the first Wednesday of the month in January, February, November and December – see the full details here.
6. Guildford through the looking glass
Next in our list of Guildford walks is this Lewis Carroll inspired walk which will take you through some delightfully varied sections of Guildford's local country side. It follows a relatively easy route that should take you around two hours to complete.
When you're walking through the Castle Gardens, look out for the statue of Alice Through the Looking Glass by Jean Argent. On the other side of the river, you'll find another version of Alice, listening as her sister reads her a story; while the White Rabbit darts down a nearby rabbit hole.
7. Allen House Grounds
If you're in the centre of Guildford, you can't do better than Allen House Grounds. Grab a spot of peace and quiet in the city in the gardens with pergola, picnic area and sports facilities, too.
These walks near Guilford are sure to keep you busy for a while should you attempt to do them all (and why wouldn't you?!). Not sure if walking is your thing? That's fine – we have a whole list of other things to do in Guildford you can try. Happy exploring!