Basingstoke sits within a valley in the beautiful Hampshire downs, which means that the town is surrounded by beautiful countryside, lush forests and soothing rivers. one of the best ways to experience all of this is on foot, breathing in the fresh air, so check out our recommended walks near Basingstoke.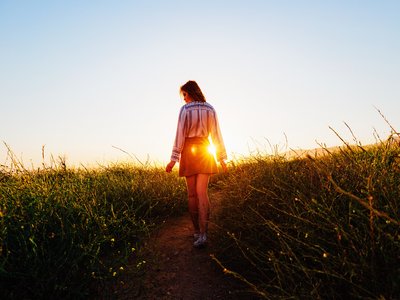 Family walks near Basingstoke
The Vyne is a gentle walk on a National Trust path through Morgaston Wood. Although it's just north of Basingstoke, you can fully escape into nature, enjoying a simple route of just over two kilometres that is suitable for all ages. Visit the National Trust website for directions.
For little ones, consider the path around Great Binfield. This mile-long path comes with a free illustrated booklet describing the story of 'the giant of Basingstoke,' which is guaranteed to keep children occupied. There's plenty for everyone else, too, as the path is studded with flowers, especially bluebells, orchids, and helleborine. Learn more and download the booklet at the Hants website.
Dog walks near Basingstoke
The quiet, rarely occupied paths around Cheesefoot Head are the ideal place to take your dog for a walk. There are circuits ranging between two and fourteen kilometres, so you can knacker your dog out no matter how energetic they are. There are a few paths that go through livestock fields or along extremely quiet roads, so be sure to put your dog on a lead if necessary. This is one of ten routes suggested by pet store Pretty Pup in their list of dog walks near Basingstoke.
The Basing Trail, which is 11 kilometres at its longest with shorter routes available, is another perfect spot for dog walks near Basingstoke. On weekdays, there are large sections of the walk where well-trained dogs can be let off their lead, although the trail does get crowded on weekends and when the weather is particularly nice. The Hants government offers an illustrated guide online.
Canal and River walks near Basingstoke
The Mill Trail, as set out by the Hants government, is a charming set of routes along the River Test. At various points along the walk, you can cross the river and begin your return journey, so the walk can be as short as three kilometres or as long as seven. An illustrated guide is available for free online.
The Basingstoke Canal Authority lovingly curates the canal and offers an online booklet of 13 circular walks. Numbers 11, 12 and 13 are all outstanding walks near Basingstoke, while the others offer options within a 45-minute drive. Set out from Colt Hill in Odiham for an adventurous walk that traces the canal before splitting off to return via Odiham castle, or walk from Greywell along the canal and through the woods. Get the booklet online here.
Country walks near Basingstoke
To truly replace the sounds of traffic with rustling leaves and birdsong, consider the National Trust's routes around Hinton Ampner. It's a 30-minute drive from Basingstoke, but the bucolic scenery is well worth the journey. There are four trails to choose from, ranging from a sedate stroll to a more arduous wild hike, so there's something for everyone. Visit the National Trust to learn more.
Slightly closer to the town, the Hannington Cottingtons Hill route is another of the best walks near Basingstoke. Setting off from Hannington, this six-and-a-half-kilometre hike takes you up a moderate hill trail. At the top, the verdant Hampshire countryside will roll out before you as far as the eye can see – and it's all downhill on the way back. Learn more at the Hampshire government site.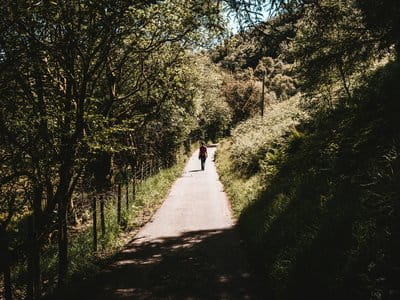 What is What3Words?
Suppose you find a really special spot on one of these hikes and you want to share it with a friend. You can't give a street address, and while coordinates may work, they're hard to remember and share. What's the solution? Try What3words, a free service that assigns every three metre square on the planet with its own three word code. At Access, we now have it included for all our stores – the entrance to our Basingstoke branch is at Train.Plenty.Prop.
If you need somewhere to keep your walking stick and backpack in winter, hiking boots or just about anything else, consider our branches around the country including, Access Self Storage in Basingstoke, Access Self Storage Manchester or Access Self Storage Portsmouth.