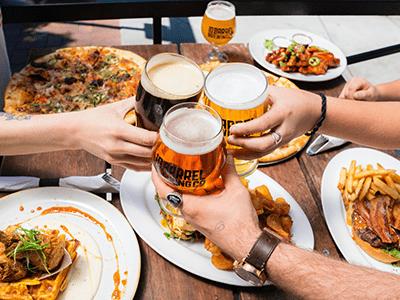 We've spoken to our staff and put together a list of the best pubs in Brentford – including special consideration for pubs near Brentford Community Stadium – check it out.
The Royal Horseguardsman
The Royal Horseguardsman a charming local pub and undoubtedly of the best kept secrets when it comes to pubs in Brentford. Although rather unassuming from the outside, the site has hosted a pub since 1888. Indoors, it's a picture perfect establishment, and it's regularly packed with people watching live sport. For a lovely afternoon, pay a visit to the small pub garden and try a pint of Guardsman.
Address: 23 Ealing Rd, Brentford TW8 0JU
Website: https://the-royal-horse-guardsman.business.site/
The Kings Arms
Serving as a pub and bed and breakfast since the early 1800s, it's hard to beat The Kings Arms for authentic Brentford ambiance. The menu offers time-tested dishes, including cod and chips, steaks, and pies, with an extended offering available on Sundays.
Address: 19 Boston Manor Rd, Brentford TW8 8EA
Website: https://www.kingsarmsbrentford.co.uk/
If you live or operate a business in Isleworth, check out Access Self Storage Isleworth – up to 50% off 8 weeks of storage when you sign up today.
The Watermans Arms
A friendly welcome is on offer from the staff – especially the landlord – at The Watermans Arms, but that's not all. Like many pubs in Brentford, The Watermans Arms also offers roast dinners (including a vegetarian option), ales, lagers and spirits at competitive prices.
Address: 1 Ferry Ln, Brentford TW8 0AW
The New Inn
If you're looking for a drink near Griffin Park, you can't beat The New Inn. This pub offers a large selection of real ales and other beverages and boasts a respectable outdoor space and log fire in the winter. The New Inn is also the home of Gaelic Athletic Association football – at least as far as pubs in Brentford are concerned. If Ireland are playing, this is the place to be.
Address: 1 New Rd, Brentford TW8 0NX
Magpie and Crown
From pub quizzes to live music and comedy – always free – there's certain to be something going on at the Magpie and Crown. The colourful and eclectically decorated space is a great Brentford pub for those seeking an entertaining night out.
Address: 128 High St, London, Brentford TW8 8EW
Looking for cheap, clean storage in West London? Check out Access Self Storage Hanwell.
The Beehive
Easily identifiable due to the golden beehive atop the façade, The Beehive is another great Brentford pub in the traditional English style. Leather booths on the inside and a covered patio on the outside, The Beehive has something to offer no matter the weather.
Address: 227 High St, Brentford TW8 0JG
Website: https://www.beehivebrentford.co.uk/
The Brewery Tap
Managed by Fullers and operated by a local family, The Brewery Tap is a traditional English pub right near the centre of Brentford. The Tap has a spacious pub garden which welcomes dogs, and it's a popular place to catch free live music with a range of acts performing multiple nights each week. Locals recommend the stone-baked pizza – the perfect accompaniment to the pub's selection of real ales.
Address: 47 Catherine Wheel Rd, Brentford TW8 8BD
Website: https://www.brewery-tap-brentford.co.uk/
If you're looking for a new office in Brentford, we have got you covered! Take a look at our bright and modern office space with flexible, short term contracts.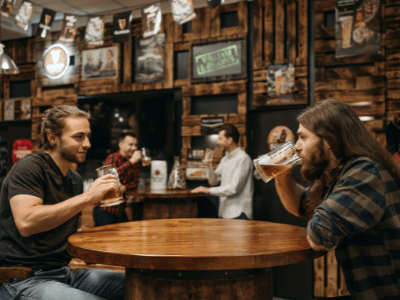 Pubs near Brentford Community Stadium
If you're catching a game and looking for pubs near Brentford Community Stadium, you're in luck. Within a ten-minute walk, there are a host of excellent options.
The Express Tavern
The nearest Brentford pub to the stadium is modern The Express Tavern, just two minutes' away on foot. The pub has earned awards for its beer selection, and it offers plenty of space in its conservatory and garden, ensuring that is room for everyone, even on game day.
Address: 56 Kew Bridge Rd, Brentford TW8 0EW
Website: http://www.expresstavern.co.uk/ - welcome
Check out Access Self Storage Acton for all your storage needs.
One Over the Ait, Kew Bridge
Just one more minute from the stadium is One Over the Ait, a Fuller's pub right on the Thames. The pub, which is a converted boathouse, offers an extensive menu of traditional British dishes across two floors and a balcony.
Address: 8 Kew Bridge Rd, Brentford TW8 0FJ
Website: https://www.oneovertheait.co.uk/
The Steam Packet
Just around the corner from Brentford Community Stadium is The Steam Packet, another riverside Brentford pub with Victorian flair. Often full of fans on game day, the pub is also packed with patrons on other days due to its combination of service, selection and food (including vegan options).
Address: 85 Strand-On-The-Green, Chiswick, London W4 3PU
Website: https://www.brunningandprice.co.uk/steampacket/
The Cricketers – Kew Green
If you consider options across the river to be pubs near Brentford Community Stadium – and you should, given that they're just five to ten minutes away – The Cricketers is a great option. The pub faces Kew Green, making it a lovely place to spend an afternoon whether there's a game on or not.
Address: 79 Kew Green, Richmond TW9 3AH
Website: http://www.thecricketerskew.com/
The Greyhound Kew
Just across from The Cricketers is The Greyhound, a similarly appealing option with an impressive beer garden and ale selection. When it comes to pubs near Brentford Community Stadium, The Greyhound is often slightly less crowded with fans despite being just moments from the stadium, making it an ideal choice for game day.
Address: 82 Kew Green, Richmond TW9 3AP
Website: http://www.thegreyhoundkew.co.uk/
Looking for a drink elsewhere in London? Check out our list of the best pub gardens in London.
Whether you live in the area or operate a local business, Access Self Storage Brentford has storage solutions for you. With cheap, modern storage units and lockers in a range of sizes – all protected by 24-hour CCTV and individually alarmed rooms – our Brentford storage facility is the top option in the area.