There's a chill in the air, decorations are going up, and it's time for a well-deserved winter break – that's right, it's the most wonderful time of the year. One of the many reasons people love the festive season is that there are so many exciting things to see, do and eat, especially in a major city like Manchester.
Whether you're looking to get your skates on or enjoy a nice craft workshop with the family, you'll find all the information on our big list of things to do in Manchester this Christmas.
Our favourite Christmas things to do in Manchester
Attend a Christmas market
A bustling Christmas market is a great way to get in the festive spirit. Manchester's wonderful markets include stalls with warm food and drinks so you can sip on a hot chocolate while you browse.
Check out Stoller Hall's artisan market to find a handmade, one-of-a-kind gift for that special someone, or head to Freight Island to make memories with live music and tasty treats. You can also visit the winter market in Piccadilly Gardens for great food and drinks. There's hot food from around the world as well as stalls selling cask ale, crafts, and much more. Families may also appreciate one of the two Winter Funland.
Have a luxurious meal
Everyone agrees that Christmas wouldn't be the same without food. For a festive lunch or dinner, consider treating yourself to a nice meal at one of Manchester's top restaurants. You might be spoiled for choice between Manchester's broad selection of independent restaurants and nationwide chains!
Many of our Christmas traditions originate in Germany, so you should dig into pork knuckle, mushroom spaetzle, or another Bavarian fare at Alberts Schloss. Large parties looking for something different can enjoy some elevated vegetarian Christmas classics at Greens, while carnivores and veggies alike might like Australasia's Christmas menu. For a pub experience, try The Black Friar or The Oast House. If you're looking to fill your boots, try a Christmas buffet at Trof, The Turing Tap, or The Bank.
Enjoy some festive music
While the school choir may be heart-warming, it's hardly the height of musical performance. If you're looking for Christmas days out in Manchester involving some serious Christmas music, you're lucky – there are plenty of concerts and performances to choose from.
St Ann's Church plays host to professional performances and skilled amateurs alike on a rotating schedule, while The Bridgewater Hall offers everything from family-friendly singalongs and Christmas movie music to an annual performance of Handel's Messiah. The Albert Hall also hosts professional concerts ranging from classic to creative, so be sure to have a look at what's on this year.
Watch a Christmas movie
Everyone has a favourite festive flick – for some, it's "The Snowman," while others may prefer "Elf" or "Love Actually." If you're looking to enjoy a Christmas classic on the big screen, there are venues across Manchester where you can settle for feature-length nostalgia.
Watch a movie in the plush armchairs at King Street Townhouse, or check out the all-encompassing winter experience at Backyard Cinema, which includes snacks and a pine branch walkway into the cinema. Or, if you prefer a more traditional experience, check out HOME on First Street, which is playing a range of BFI classics.
Are you planning your work Christmas party and looking for ideas? We've got you covered!
Family friendly Christmas things to do in Manchester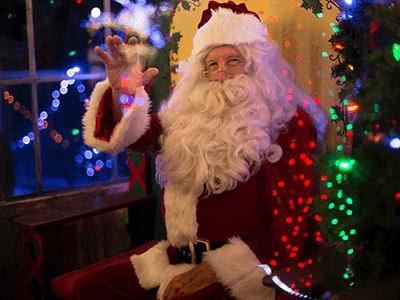 Catch a winter show
Enjoying a pantomime, musical, or multi-talented show is one of the most popular things to do in Manchester at Christmas for families. There are stage shows with something for people of all ages at many of the city's flagship venues, so check out what's on and book your tickets early!
Spend Christmas with a beloved character at The Trafford Centre or take in a classic story at The National Theatre at The Lowry. For slightly older children, The RNCM offers an age-appropriate Christmas orchestral performance.
Visit Father Christmas
For many families, it wouldn't be Christmas without a visit to the big man himself. Fortunately, parents have plenty of options to choose from. If you're looking to make more of an adventure of your visit this year, you can venture beyond the department store to various locations.
Tatton Park Farm makes a big event of it with food and live entertainment, while Quarry Bank combines the meeting with activities and crafts designed for children from six months to five years of age. For something less conventional, you could go wild and pay Saint Nick a visit at or sail with Santa on the Community Spirit canal boat – some of the most memorable Christmas days out Manchester has to offer!
Do some Christmas crafts
There's nothing quite like a handmade gift, and a crafting event is a great chance to make one – especially since you don't have to deal with clean-up. Whether it's baking Christmas cookies or making snow globes, you've got plenty of options in Manchester.
There are several free crafting events at the Arndale Centre and the Moss Side Millennium Powerhouse. Or, as part of the Walking with The Snowman trail through the Lowry Centre, stop by the Open Centre of MediaCityUK to let your young ones try their hand at making a snow globe.
Bored during the Christmas holidays? Here are some of the top free Museums in Manchester!
Outdoor Christmas things to do in Manchester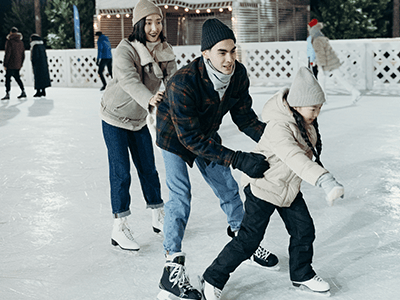 Take in the lights
If you're willing to brave the cold, you can enjoy some truly spectacular lights across the city. There are beautiful displays all over popular shopping areas like Market Street, King Street, and St Ann's Square, as well as more intensive displays in parks and other locations.
The biggest display is the Lightopia Festival, located in Heaton Park. Other breathtaking options are the RHS Garden Bridgewater light show and the incredible animal-shaped lanterns at Chester Zoo if you're willing to travel a little further.
Go ice skating
You might love or hate it, but you won't know until you try, so get your skates on! Ice skating is one of the most popular Christmas things to do in Manchester, and there are several beginner-friendly ice rinks in Manchester at various sizes and price points.
Near the Christmas Markets, there's , or – just across town, there's the Manchester Ice Rink at Depot Mayfield. If you want to get your skating fix while you're out shopping, check out TinselTown at the Trafford Centre.
Keep in touch with your artistic side by visiting the best free art galleries in Manchester!
That's it for our list of the top Christmas things to do Manchester. All of us at Access, especially our lovely team at Access Self Storage Manchester, would like to wish you a merry Christmas and a happy New Year!
If you're looking for somewhere to store your Christmas decorations for the rest of the year, or if you've set a New Year's resolution that you're going to declutter, we can help! Get a quote from us today.