Snow, cheap flights, and tasty European food – what's not to love? A mid-winter holiday can get you away from work during the potato-brain period (pre and post-Christmas), and what better way to spend a February weekend than in one of Europe's picturesque winter destinations.
One of the best things about living in the UK is that we don't have to travel too far to see some amazing places. And we're already used to freezing winters, so we're well prepared to embrace the cold in another city. Fear not, if the cold really isn't for you, we've included a spot for some winter sun too.
With that in mind, here are the best winter destinations in Europe.

1. Cortina d'Ampezzo, Italy
It would be wrong to choose the best winter destinations in Europe without including a ski resort. Cortina d'Ampezzo was voted the number one ski resort in Europe by Conde Nast Traveller readers. It's only two hours from Venice, so isn't too far off the beaten track and has a nice range of affordable and luxury accommodation options. Day passes to the slopes for adults start from €50.00, which you can reserve online. It also happens to be one of George Clooney's getaway spots, so if you're lucky, you might even catch him out on the pistes.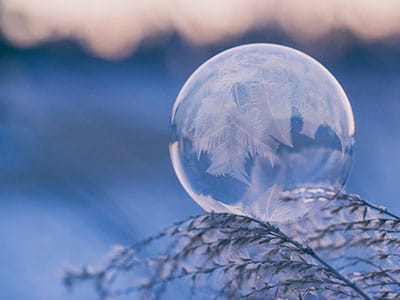 2. Copenhagen, Denmark
The Danish word hygge (pronounced hoo-gah) is best understood in winter. VisitDenmark describes hygge as 'creating a warm atmosphere and enjoying the good things in life with good people' – this is exactly what Copenhagen in the depths of winter is all about. You can enjoy warm spiced rum at Tivoli Gardens, eat at one of the many pop up restaurants (Copenhagen is known for its incredible food) and sip a coffee in one of the ultra-cool cafés in Nørrebro. With a laid-back attitude and plenty of cosy Airbnbs to choose from, Copenhagen is definitely one of the best winter destinations in Europe.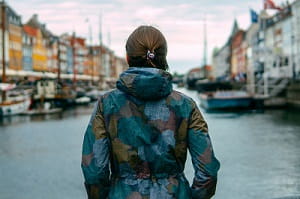 3. Madeira, Portugal
Often referred to by travel guides as the 'island of the eternal spring' due to its year-round spring-like weather, Madeira is the perfect place to go for some winter sun. If you're the type of traveller that likes to sit on the beach or pool and relax, you're in luck. If you want to get out and about, you can hike above the cloud line at Pico Ruivo, pay a visit to the beautiful suburb of Monte (where you travel up by cable car and return via the toboggan run) and party in the capital of Funchal. If you're looking to stay somewhere a little more affordable, the Vitorina Corte Guesthouse has great reviews and prices start from £25 per night.
4. Paris, France
OK, it may be a bit of a cliché, but Paris is always beautiful and there's just something about the snow that makes everything look even more picturesque. Plus, there are some winter-only events on – private museum Musée des Art Forains opens to the public for ten days every year in December and there are some pretty spectacular Christmas lights along the Champs-Elysées. You'll also find that the queues for tourist attractions like Notre Dame are shorter. But be warned – the top floor of the Eiffel Tower closes for maintenance every January (although you can still go to the first and second floors).
5. Venice, Italy
Venice might not seem like an obvious choice as one of the best winter destinations in Europe, but Venice Carnival takes place every year in the weeks leading up to Shrove Tuesday, or 'Martedi Grasso' in Italian. With almost three million visitors from all over the world dressed up in ballgowns and masks, the carnival is an amazing thing. The carnival's website has full details including all of the official dates and free events. And whilst you're there, you must eat a galani, a fried pastry covered in icing sugar. Yum.
6. Berlin, Germany
Berlin is one of the best European cities, whatever the season. But what makes it one of the best winter destinations is that there is so much to do indoors. Yes, there are definitely some amazing Christmas markets which are well worth a visit, but the temperature often dips below 0. If you want to stay warm, there's loads to do too.
There's street art museum Urban Nation and the Computerspielemuseum, a museum dedicated entirely to video games. History buffs might be more interested in The Topography of Terror, a museum located on former Gestapo and SS headquarters, where you can see inside the cells where Gestapo officers tortured prisoners. Those looking for light relief can end their days in the city by attempting to get into one of the most exclusive nightclubs in the world, Berghain. But be warned – many people get turned away for absolutely no reason at all. Good luck.
There even used to be a Currywurst Museum, (yes – a museum dedicated to curried sausages!) where you could make your own 'virtual Currywurst', but unfortunately that closed at the end of 2018.
If you're looking for somewhere to keep a few things safe while you're away, check out our storage by the box service, we'll pick your stuff up and deliver it back to you when you're ready.

We also have comprehensive self storage options across the UK including Access Self Storage Bristol, Access Self Storage Birmingham Central, and Access Self Storage Islington.