There's a lot to love about Nottingham, from the city's incredible history to its exciting restaurants and bars. One of the things that locals love most about the area, though, is the easy access to great walks. There's no better way to experience the Trent Valley, Sherwood Forest and the beautiful rolling Nottinghamshire hills than on a nice long walk.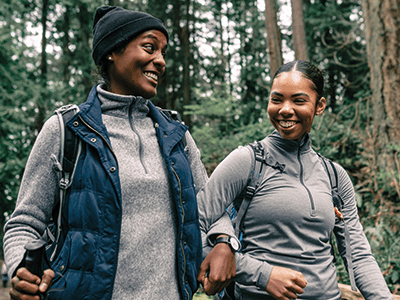 We've spoken to the team at Access Self Storage Nottingham and put together this list of the best walks in Nottingham.
Gedling Country Park
There are enough routes in Gedling Country Park's 580 acres to warrant multiple visits – and that's not to mention the playground, zipline and café! This is one of the best walks in Nottingham for families, as the paths are well-maintained, and there are length options to suit all ages.
Are you looking for fun things to do in Nottingham? Check out our recommendations!
Three-village hike
For a longer scenic route, consider visiting the charming towns of Trowell, Cossall and Strelley. A circuit that touches on these three villages is a little over eight miles, although it can be extended in any direction. The route includes a variety of terrain types, making this one of the most popular walks in Nottingham among serious hikers. The downside is that you will need to walk on roads for some sections, so be careful and walk on the right so you can see oncoming traffic. Despite this, it remains a popular walk – likely in part because you can stop for a cup of tea in any of the villages!
Colwick Country Park
Located just east of Nottingham, the serene lakes of Colwick Country Park are the ideal place for a peaceful escape from the hustle and bustle of everyday life. There is parking on-site, for easy access and several circuits available. We recommend setting out north-east around the lakes before circling back along the river, a route that takes a little over an hour.
In addition to walks, there are plenty of other outdoor activities available at Colwick, including swimming, fishing and cycling – check out the council's website to learn more.
Are you a Nottingham student needing somewhere temporary to store your stuff over the summer? See how we can help!
Attenborough Nature Reserve
The perimeter of the Attenborough Nature Reserve is just under five miles and ideal for birdwatching. There are carefully designed shelters and hides throughout the facility, making it easy for even the most amateur birdwatcher to get a great view of the wildlife. The path is sturdy, and even accessible to people with reduced mobility, making this one of the top walks in Nottingham for everyone.
Newstead Abbey
Located under half an hour's drive from the centre of Nottingham, Newstead Abbey is ideal for families, and dogs are welcome if they are kept on a lead. Whilst on the walk, you can learn about the abbey's most famous resident, Lord Byron, and visit his old home. The walks are on the shorter side, ranging from a quarter of a mile to just under two miles, but what they lack in length they more than make up for in scenery and history! The council has even produced a PDF leaflet of walks on the grounds.
Wollaton Park
If you're looking to acquaint yourself with the deer on Nottingham's city crest, check out Wollaton Park. The free-roaming deer aren't afraid of people – but be sure to maintain a safe distance and keep dogs on a lead. There are several walks near Nottingham that take you through Wollaton Park, ranging from mile-long routes from one side to the other, to a two-mile-long loop around the outside of the park, and longer routes which start and end at Wollaton. Whichever route you choose, be sure to check out the "Sensory Garden" in the centre of the park!
Nottinghamshire's highest peaks
While the landscape isn't exactly known for its heights, there are some walks near Nottingham that provide an expansive view. There's some debate over what Nottinghamshire's single highest hill is, but fortunately both candidates are within walking distance of one another, so you can try them both out for yourself!
On the one hand, you have Silverhill Wood, a peak which owes its height to the region's history of mining. Material from the nearby Teversal Colliery was piled here, and over the 100 years that the mine was in use, it produced a significant hill. Today, it's completely unrecognisable as a consequence of mining and it's hard to tell apart from other hills in the area.
On the other hand, if you believe that something needs to be naturally occurring to count as a "hill," you'll want to walk for about 45 minutes to Newtonwood Lane. From the top, you'll have an excellent view of the reservoir below, and on a clear day you may be able to see Sheffield to the north, Nottingham and Derby to the south.
The Nottingham Post has written about these two competing hills – they even asked the Ordnance Survey.
If you're looking for flexible office space in Nottingham, well look no further! Access Self Storage Nottingham has unfurnished office spaces perfect for your business.
Peak District National Park
If you're willing to go a little further afield, Nottingham is within easy reach of the Peak District National Park, which is home to countless delightful walks and ideal for a day trip. Chatsworth House, Bath Gardens, and Thornbridge Hall are all on the side of the National Park closest to Nottingham, and each offers a range of scenic trails, making them well worth a visit!
If you live in the area, try Access Self Storage Nottingham for all of your storage needs. Whether it's hiking boots and winter coats or the entire contents for your home while you move house, we can help! Contact us today.