There's nothing quite like a good country walk: the fresh air, the lush sonorities, and a chance to unwind from any stresses and clear your mind. When the urban grind gets a bit much, a brief retreat to some woodlands is sometimes the best medicine.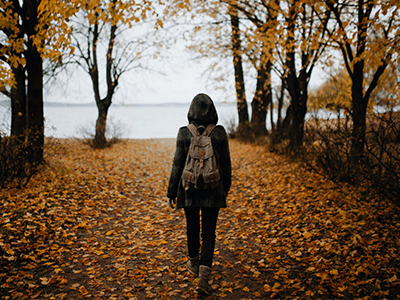 If you're itching to get your fix of the great outdoors and you're in the Bracknell area, then you're in luck! Our Access Self Storage Bracknell team has compiled a list of our picks for the best walks near Bracknell.
Lily Hill Park
Situated near the town centre, this park is one of the more well-known Bracknell walking routes. It boasts 56 acres of lush green lands, all easily navigable via a network of restored pathways. In addition to woodlands, you'll also find an Edwardian water garden and an animal tracks trail – this one is great for families. Fun fact: Lily Hill Park is home to the largest picnic bench in England! There are also a variety of carved sculptures to look at and a balance beam (try not to fall off!)
Shepard Meadows and Sandhurst Memorial Park
Two walks near Bracknell for the price of one! Shepherd Meadows is 100 acres of wet meadows and woodlands just south of the town. The adjacent Sandhurst Memorial Park is a 69-acre site that offers a lot in the way of recreation – so it's great for a weekend trip with the family.
Both sites are major conservation areas and are some of the last undeveloped sites on the Blackwater River floodplain. In the meadows, you'll find over 600 species of insects and some vibrant birdlife. If you get lucky, you may even spot a roe deer. The area also features a sports club, café, kid's play area and an activity trail for older children. You'll also find a variety of sports facilities, including tennis courts, football pitches and a cricket square.
Whilst you're on your walk, check out our top eight cafés in Bracknell!
Swinley Forest
A real forest! This is one of the longer Bracknell walking routes, with the entire forest comprising 2,600 acres. But don't worry, nobody would ever expect you to traverse all that! The area is managed by the Crown Estate and features multiple amenities. The Look Out is an outdoor centre with over 90 activities for children and an adventure area. Then, when you're tired after that long trek in the woods, you can recharge and relax at the café.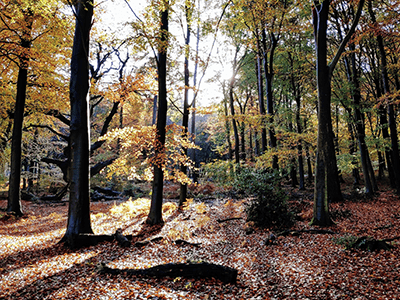 Simon's Wood Trail
Simon's Wood is much more basic than the other sites we've covered. However, it is undoubtedly one of the most scenic walks near Bracknell! After pulling up at the free car park, you'll have the choice of a few pathways leading to Heath Pool. This impressive pond is populated with masses of lily pads and there's even a little island in the middle where the ducks and geese retire after a long day on the water. There are no playgrounds, or places to eat here, but that doesn't matter – take a flask of coffee and something to eat and enjoy the views.
Before going on all your walks in Bracknell, take a look at our blog on the hiking essentials for beginners!
Pope's Meadow
A fantastic circular walk near Bracknell. At 13.7 acres, Pope's Meadow is slightly smaller than the others on this list. However, it is still a treat to visit on the weekend. The park is named after the famous poet, Alexander Pope, who lived in Pope Manor next to the site. There's a good variety of terrain here: you have flat shortgrass areas, meadows, woodland glades and a kickabout area, so bring your ball! Finally, there is a lovely pond where you can relax or take family photos (everybody loves those).
We hope you enjoyed this roundup of our picks for walks in Bracknell.
If you're looking for somewhere to keep your hiking boots when you're not using them – or store just about anything else – try Access Self Storage Bracknell. We provide cheap, clean storage just beyond the Twin Bridges Roundabout.