On the quiet south-eastern edge of London's metropolitan area is the charming town of Orpington. It's a popular commuter town, being a short journey away from the city by car or train, and it has plenty of appeal in its own right. Anyone who walks around Orpington can't help but appreciate the collection of lovely local cafés, restaurants showcasing global cuisine, and lush, well-kept parks and green spaces.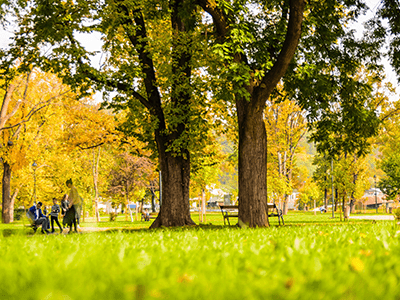 Since it's located right next to London's Green Belt, the parks in Orpington are some of the capital's best. The staff at our Orpington self storage facility, which is located on Cray Avenue in the north of town, have contributed to our list of the top parks and walks in Orpington.
Goddington Park
In the south of Orpington, you'll find Goddington Park. Although not the largest, this park is one of the most popular due to its extensive collection of sporting grounds. It has facilities for football, rugby, cricket, tennis and basketball, so it's usually busy on the weekends. It also has an extensive playground for younger children. Pay a visit for the annual fireworks display in November!
High Elms Orpington
High Elms consists of 250 acres of beautiful countryside, including wildflower meadows and ancient forest. The nature reserve is the former grounds of the local Lubbock Family, and some of their modifications – including the ice well, which remains naturally chilly year round – are still present.
For one of the best walks near Orpington, set off south on Church Road, turn right onto Shire Lane, and then follow High Elms Road. Turn off after the golf course and you'll be on track to visit the Orchid Bank! This small chalk meadow contains beautiful English orchids.
Take a look at our top five things to do in Orpington!
Jubilee Country Park
Head north toward Bromley and you'll arrive at Jubilee Country Park, a nature reserve so named because it was commissioned to celebrate the Queen's Silver Jubilee. These grassland meadows are beautiful when they bloom in spring, but the fields and trees of Thornet Wood provide plenty to enjoy during the rest of the year.
With a variety of oak, beech, ash, and other varieties of local trees, Hawkwood Estate has remained almost unchanged for hundreds of years. Cows and sheep graze in the fields, and from the hilltop, you can look out onto the woodlands deeper into the Green Belt – it's easy to forget that you're under 15 miles from the city!
Are you travelling to Orpington on your bike? Check out our recommendations of the best cycle routes in South East London!
Priory Gardens Orpington
Priory Gardens is one of the best parks in Orpington for a quick green getaway. Located in the heart of Orpington, you can take a quiet moment away from it all to feed the swans, ducks and geese. The park also contains a small playground and well-maintained flower garden – check out the roses in summer.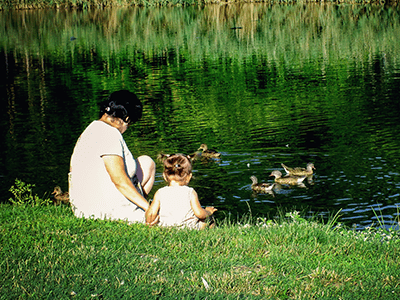 Riverside Gardens
As the name suggests, Riverside Garden is centred on its water features. There's the eponymous river, as well as a pond for model boats and a small paddling pool which gets plenty of use in the summer. The entire length of the park is just about 1km, but it's a great way to escape from the hustle and bustle if you're walking through Orpington
This is the closest park to our self storage facility in Orpington, and you may find some of our team eating lunch here on a nice day!
Hayes Common
To the west of Orpington, you'll find the expansive Hayes Common. This heath is ideal for a quiet walk, and dogs are welcome. For another of the great walks near Orpington, set off from Keston Common and follow Ravens Bourne through Padmall Wood. Turn left at Croydon Road to enter the common proper, and turn left at Baston Road. You'll arrive at the storied Quintopus tree, which local legend claims is haunted by the spirit of a 10th-century Saxon princess. Continue on to West Wickham Common before looping back.
Lullingstone Country Park
If you're serious about hiking, Lullingstone is the best park in Orpington for you. It's a little further out than the others, but the journey is worth it for the extensive forests, beautiful trails, and rolling meadows. When you're done hiking, check out the 15th-century castle and its gardens and stop for a scone in the café.
That's it for our list of the top parks in Orpington!
If you're looking to store your hiking boots, walking equipment – or if you're moving house in the area – your nearest facility is Access Self Storage Orpington, which offers cheap, modern storage for local residents and businesses.