If you're looking for a fun, cultured day out in Manchester and don't want to break the bank, this guide is for you!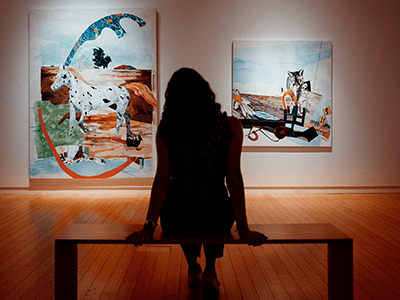 We've compiled a list of our favourite free art galleries in Manchester. That's right, in a world where prices seem to be exiting the atmosphere, you can explore the artistic side of one of the UK's most culturally significant cities without spending a penny… read on.
Manchester Art Gallery
Situated in the heart of the city, right near Chinatown, this free Manchester art gallery has been operating since 1883. During the city's labour movement, a group of activists pushed for an art gallery, free of charge, to provide refuge from the harsh conditions of industrial Manchester. Since then, the gallery has hosted some of the most significant exhibitions the city has seen to date. The gallery is best known for its collection of pre-19th century British works and non-British pieces going back to 1400. The gallery also offers events for people of all ages – all free of charge, of course.
Address:
Manchester Art Gallery,
Mosley St,
Manchester
M2 3JL
The John Rylands Institute and Library
This cultural hub is home to many things, and the impressive art gallery is but a small piece. However, the gallery is certainly one to see! The University of Manchester Library is ranked in the top five university art collections worldwide! The gallery has a vast collection of 14th-century works that are worth checking out and a constantly cycling selection of events.
Address:
150 Deansgate,
Manchester
M3 3EH
We've lined up eight of the best photography spots in Manchester. Check it out!
The Lowry
Okay, the more pedantic among you will be itching to point out that this is actually in Salford. But in any case, the Lowry is a fantastic gallery and theatre that you can't miss. Unsurprisingly, a permanent fixture of the exhibition schedule is a collection of works from the British artist Lawrence Stephen Lowry. He spent much of his life in and around Salford, hence why the gallery bears his name. You'll also find temporary exhibitions that typically last a few months.
Address:
The Quays,
Salford
M50 3AZ
The Whitworth Art Gallery
Part of the University of Manchester, this gallery was founded in 1889 by Sir Joseph Whitworth. There are lots of exhibitions going on here, including the powerful "Still Parents" collections and the memory wall dedicated to the parents of stillborn children. Also available to see is the "Open House" collection. This is a collection of 10,000 wallpapers that adorned walls from the end of World War Two to the early 1990s when most wallpapers started to be removed.
Address:
Floor 0,
The University of Manchester
Oxford Road,
Manchester
M15 6ER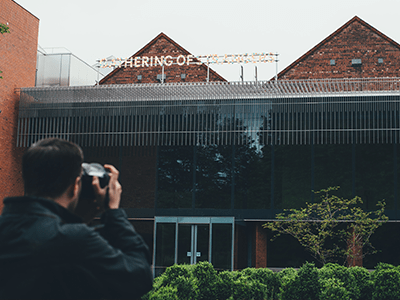 Salford Museum and Art Gallery
The Salford Museum and Art Gallery, also known as the "other" gallery in Salford, is a special place. It was the UK's first free public library and is a fantastic source of information. Plus, it has lots of fun recreational activities, such as markets, special exhibitions and much more!
The upstairs galleries have three permanent exhibitions: the Victorian Exhibition is a collection of fine art, sculptures and other works within a mock Victorian setting. Pilkington's Ceramic Collection is the largest collection of ceramic works in the UK, and "By Hand" showcases the work of locals. In the case of the latter, jewellery, textiles and ceramics are on display and are available to purchase.
Address:
Crescent,
Salford
M5 4WU
Castlefield Art Gallery
One of the less traditional free art galleries in Manchester is the Castlefield Art Gallery. It was established in 1984 as Manchester's first contemporary gallery and actively champions the development of local artists' works. You'll find plenty of thought-provoking and zany exhibitions here – but they move in quickly and leave just as fast!
Address:
2 Hewitt St,
Manchester
M15 4GB
Ordsall Hall
Less a gallery and more an interactive experience, Ordsall Hall is situated just across from the Lowry. Its claim to fame is offering a deeper insight into the history of England than just staring at paintings. Here, you can dress as a Tudor would have done, try on some chainmail (the real deal, too!) and even sit in a 1500s-style banquet hall and pretend you're having a feast.
There are also plenty of sculptures and artistic works for you to view – otherwise, it wouldn't make our list! Also, why not make a day of it and check out one of the interesting events Ordsall Hall has on? You could spend the day in their orchard, do some lino painting, and maybe even try your hand at wand making.
Address:
322 Ordsall Lane,
Salford
M5 3AN
Fancy a museum instead? Check out our list of the best free museums in Manchester!
That's it for our list of free art galleries in Manchester. We hope you enjoyed this blog post, and check out some of these wonderful Manchester galleries. If you have an extensive collection of anything and can't find a place to store it at home, why not try Access Self Storage for cheap, modern storage solutions?
Our cheap Manchester self storage facility is located on the Sharston Industrial Estate, just off the M56. It offers 24-hour access and a range of amenities, and the helpful team at Access Self Storage Manchester will be happy to help you find the perfect storage unit or storage locker for your needs. Get a quote today.