When it comes to student bars, Birmingham has a lot to offer. If you're looking for somewhere with decent priced drinks, some music and food, then you'll find loads of student bars in Birmingham that cater to your needs.
It's always good to get recommendations from locals. Our teams (or at least the younger members of them!) at Access Self Storage Birmingham Central, Erdington and Selly Oak have put their heads together and shared their favourite student bars in Birmingham.
The Bristol Pear
The Bristol Pear is one of the best student bars in Birmingham for sports, food and entertainment. It occasionally hosts gigs if you're interested in live music, and shows all the best sport on TV. There's also a private room for hire if you want to host a party. There's a wide menu with a vegan section and it also has craft beer on tap.
Important info: Open from 10:00 – 00:00 Monday to Wednesday, 10:00 – 01:00 Thursdays to Saturdays and 11:00 - 00:00 on Sundays. You can book a table and check out the menu on the website.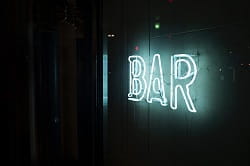 Tilt
If you're looking for novelty student bars Birmingham has got you covered. Enter Tilt – a craft beer, coffee and Pinball bar. Yes, you read that right, a pinball bar. There are 20 pinball machines and you can even join its pinball league. It's safe to say you'd get some good Instagrams here and it caters for non-drinkers too, with loose leaf tea and excellent coffee. One Google review described Tilt as the "best bar in the world", high praise indeed. If you'd like to have a party there, there is an upstairs area that can be fully booked for private events and parties.
Important info: Open from 10:00 – 23:00 Tuesday to Thursday, 10:00 – 00:00 Friday and Saturday, 10:00 – 22:00 on Sunday and 10:00 – 19:00 on Monday. More information can be found on the website.They often post new deals on their Twitter too.
Mooch Bar
Based in Birmingham city centre, Mooch is billed as 'the most stylish bar in Birmingham'. In terms of style, you'll find glam décor, leather couches and LED lights. Style aside, you'll find a good selection of cocktails, a hefty food menu and live sporting events. If you go there often enough, you can even get a loyalty card.
Important info: Open from 12:00 – 03:00 on Wednesdays, Fridays and Saturdays, 12:00 – 02:00 on Mondays, Tuesdays, Thursdays and Sundays. Bookings can be made via the website.
Check out their Twitter for up to date deals.
Eagle & Ball
This Grade II listed building is incorporated into the Birmingham City University building, but is a popular location for students and non-students alike. They offer great pizza, student discounts and live music events. There is a cocktail night every Tuesday and happy hour every Friday. There's also a quiz night on Thursdays. Basically, there's something for everyone. One Google reviewer said: "Amazing!! Come here all the time. Just a nice place to relax with friends". Only drawback is that it's closed on weekends.
Important info:
Open from 11:00 – 11:00 Monday to Thursday, 11:00 – 00:00 on Fridays. More info on their site.
If you're still looking for student bars in Birmingham, it's worth checking out Design My Night. The website (and accompanying app) helps you plan your night out by asking you what you're looking for from your night out and the location you want to stick to. It can help you get discounts, too.
Are you a student in Birmingham and need somewhere to store your things over the summer? Access Self Storage can help with our branches self storage Birmingham Central, self storage Birmingham Erdington and self storage Birmingham Selly Oak. Check out our latest deals on our student storage page.