Looking for backpacking inspiration? We've done some research and have put together the ultimate Southeast Asia backpacking route – it should help give you some ideas.
Southeast Asia is great for student travellers and backpackers: it's relatively easy to get around, there is loads to see and do and it won't cost you a fortune.
So, what are you waiting for? Get planning today!
Thailand
Start your adventure in Thailand, by flying in to Bangkok. The city is a major airline hub, so you'll easily find a reasonably priced flight.
After spending a couple of days in Bangkok, shopping and soaking up the culture, head North stopping at Ayutthaya. This ancient city was the capital of former country Siam and is basically an island in the middle of three rivers. Sounds amazing, right?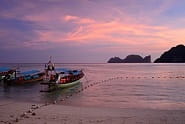 After discovering the history of Thailand in Ayutthaya, head further North to Chiang Mai. If you'd like to learn more about traditional Thai practices like massage and meditation, this the place to be. It's also a good base from which to trek into the jungle or explore some of Thailand's ethnic minority villages.
To cross the border into Laos – the next stop on our Southeast Asia backpacking route – head to Chiang Kong. In Chiang Kong you can explore the local market before crossing to Huay Xai in Laos.
Internal flights, trains and private buses are great ways to get around Thailand. If you want more help planning your travel, these guys should be able to help.
Laos
Laos typically has a much more relaxed vibe than Thailand. To fully experience the country's slower pace of living take a boat tour down the Mekong River – you'll see locals going about their daily tasks, women washing clothes and children playing on the river bank.
Laos' capital Vientiane is also a great spot to spend a couple of days – situated on the Mekong River it's a great place to relax and try out the local food.
From Vientiane you can either take a bus to Hanoi in Vietnam (this will take about 18 hours) or you can fly with a local airline.
Vietnam
Hanoi is a bustling city in Northern Vietnam, from here you can organise a day trip to the famous Halong Bay – an absolute must see.
After a few days in Hanoi, travel south (you can take a bus or train) to the riverside town of Hoi An. Hoi An is the place to buy good quality tailor-made clothes without breaking the bank! The town also has some lovely beaches where you can relax.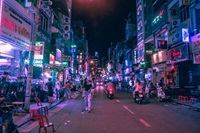 From Hoi An, you can stop at a few other towns as you make your way south to Hi Chi Minh City, including Nha Trang and Mui Ne.
When you arrive in Ho Chi Minh City head to the Pham Ngu Lao traveller area for cheap places to eat, sleep and drink. Ho Chi Minh City is a great place to learn about the country's history and visit the famous Cu Chi Tunnels.
It is also really easy to get from Ho Chi Minh City to Cambodia – there are regular buses taking about six hours.


Cambodia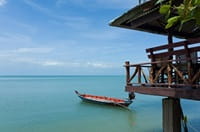 After spending some time in busy Vietnam, you might feel ready for another beach break. In that case head to Sihanoukville in Cambodia. There you'll find unspoiled beaches and 24-hour bars. What more could you possibly want?
When planning your Southeast Asia backpacking route, you also have to make a plan to visit the historical sites and temples near Siem Reap in Cambodia. From Siem Reap you can easily get to the magnificent must-see temples of Angkor Wat.
When you're done exploring Siem Reap, head back to Bangkok to conclude your journey. Simply take a bus from Siem Reap to Poipet – the border town, cross the border and get a tuk-tuk to the Aranyaprathet bus terminal. Once you're at the terminal you'll be able to get a bus back to Bangkok.
When planning your Southeast Asia backpacking route make sure to leave yourself enough time to explore each destination – ideally you want to have two to three months to travel.
Think travelling for three months sounds great, but worried about what to do with your stuff while you're away? Check out our storage by the box service – all you have to do is pack your stuff up and we'll take care of literally everything else.
Alternatively, you can also contact your nearest Access store for help with bigger (or simply more) items. We have stores all around the country including Access Self Storage Acton, Access Self Storage Islington, and Access Self Storage Kings Cross.