Picnics are awesome. What's better than relaxing on the grass with your friends or family and soaking up the sunshine. But without the right gear, they can also be a bit of a hassle – just ask anyone whose food was squished or drinks were lukewarm by the time they were ready to dig in. The right picnic accessories can make a world of difference!
1. A functional picnic basket
Let's start with the basics.
A picnic is only as good as the snacks you have, so you'll want to ensure that your treats arrive in perfect condition. The drinks should be cold, crisps and cupcakes shouldn't be squashed and any hot food should still be warm by the time you want to eat it.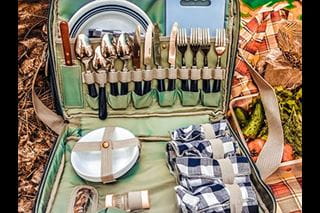 A functional picnic hamper can take care of all these things. You can go with a traditional hamper that will keep your food and drinks secure, or for some hot food – get a hamper with an insulating bag inside to keep everything warm. Hungryhouse, recently launched a hamper that does exactly this!
2. Wine bottle and glass holder
Anyone who has ever struggled to balance a wine glass on grass will understand the absolute necessity of this accessory. An outdoor wine bottle and glass holder will allow you to relax in the park without worrying about spillage.
These holders are basically a metal spike that you can stick into the grass, that's then twisted at the top to keep your drinks securely off the ground. Nifty!
3. Portable barbeque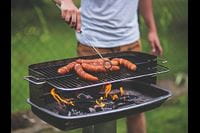 If you like the idea of cooking your own food al fresco at a picnic spot, a portable barbeque will be one of your must-have picnic accessories, says barbeque manufacturer Weber. Portable barbeques come in both charcoal and gas varieties and are small enough to fit in the boot of your car. So you can easily take them with you wherever you go.
Having a barbeque is a great way to make a picnic an all-day event that brings friends and families together. It will also be less effort for the organiser as everyone can bring their own food contributions.
4. The perfect blanket
An essential part of the picnic.
A good blanket will go a long way to making your picnic as comfortable as possible. But have you thought about how a picnic mat could also make things more fun?
Gift retailer Menkind recommends getting a picnic blanket that is also a game – like this Twister Picnic Blanket – to make your picnic much more entertaining. The kids are sure to love it, and who knows, you might even want to give it a go too! Of course, there is the risk of someone stepping in the coronation chicken – but you can cross that bridge…
If you're worried about where to store your picnic accessories when winter rolls around – don't be. We have a range of stores across the country, like Access Self Storage Acton and Access Self Storage Guildford, that will gladly keep your things safe and dry until next summer.
Contact our team today at a store near you for a personalised quote.