It might seem obvious, but Derby, the Derbyshire countryside and Peak District area have some of the best locations for landscape photography in the country. And yet, many don't see photography as a legitimate pastime. But it's a great way to get out of the house, visit new places and create some beautiful images to treasure.
If you're into Instagram, are in the area or are just looking for something different to do, check out our list below of the best spots for photography in Derby. We've also included a couple of beautiful spots that are nearby in the surrounding countryside, in case you fancy a drive there, too.
Calke Abbey
Known as the 'unstately' home, Calke Abbey is a 20th century country house estate. The house and stables are little restored, with many abandoned areas. Here, you can see a vast collection of hidden treasures from the eccentric family who lived there.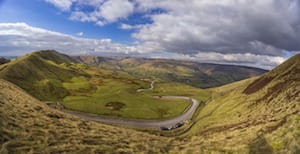 Outside the house itself are faded walled gardens and an orangery, auricular theatre and the kitchen gardens – all perfect spots for some good photography in Derby. Calke Park and its National Nature Reserve are also nearby for some more photo opportunities. For further details, visit The National Trust website.
Crich Tramway Village
Crich Tramway Village is an outdoor museum that contains over 60 (mainly British) trams built between 1873 and 1982. It is a period village containing a pub, cafe, old-style sweetshop and tram depots. You can take a ride on the trams as they run through the village-setting with visitors transported one-mile out into the local countryside and back. It's a great day out for all the family within an hour's drive of Derby.
What makes it a particularly good spot for photography in Derby (or at least, very nearby) is the Woodland Walk and Sculpture Trail. The trail winds its way through native woodland that is dotted with sculptures by the resident sculptor. With breath-taking views across the Derwent Valley and Derbyshire Countryside, the Woodland Walk is the perfect place to capture some incredible shots.
Open daily until 4th November 2018 from 10.00am. Re-opens for the new season on Saturday 16th March 2019. For full details of opening times, see the Crich Tramway Village website.
Curbar Edge, near Chesterfield
Curbar Edge in the Peak District is a great place to photograph classic Derbyshire greenery and gorgeous countryside backdrops. Or, if you go in late August or September you'll be able to catch the purple heather. Needless to say, it doesn't matter when you go – you'll take stunning photographs across Curbar Edge and Curbar Gap, no matter what the season.
There's a car park and some roadside parking just a stone's throw away from Curbar Edge. If you'd like to spot some animals, you can take the path to Curbar Gap which is occasionally taken over by a herd of gorgeous Highland Cattle. Or, you can do a red deer and edges walk – just head east through a gate on a vehicle track when you get to the car park (full details of the trail on The National Trust's website).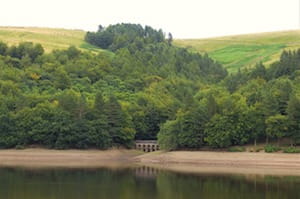 The fastest and most direct route from Derby is via the A38. It is 37 miles away and should take between 45 minutes to an hour in the car.
Derbyshire's secret waterfall – Lumsdale Valley
Lumsdale Valley was once at the middlemost point of production in this remote valley. You can see the remains of the 16th Century Bone Mill, which was abandoned in the 1920s. Further along the path, visitors will come across a second, 19th Century Mill, built in the 1850s. The second mill also features a large mill stone imported from France. The path then leads on to Paint Mill, the third mill.
Lumsdale Valley is known by many as a hidden gem and perfect for photography near Derby. The waterfall is beautiful. It's got loads of great reviews on TripAdvisor, with many describing the area as tranquil and peaceful. This blog has great instructions for the walk and a taster of the types of pictures you can take.
At just over 20 miles away, Lumsdale Valley is approximately a 30-minute drive from Derby. The recommended route is via the A38 and A615.
And remember, for any of your storage needs around Derbyshire, be it cameras, tripods or anything else, our friendly team at Access Self Storage Derby are nearby!