If you're out and about in Bracknell looking to grab a drink and bite to eat, there are lots of options out there. From Italian-inspired cafés to quaint afternoon tea spots, this list contains enough variety for everyone, whilst never comprising on quality of produce or experience.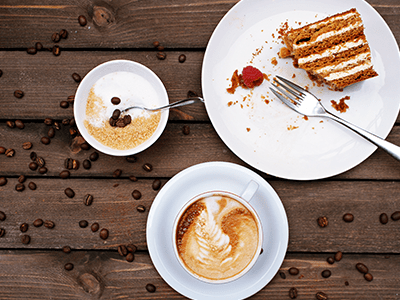 So, if you want to ditch the boring chains, check out some of these delightful Bracknell cafés. We didn't feel ranking was the best approach here, so we've just indexed our recommendations alphabetically for easy reference.
A Cup of Rosie Coffee Bar
If you're looking for a classier option, try out A Cup of Rosie. This Bracknell café is well-regarded for its afternoon teas and artisan cakes – jacket potatoes also come highly recommended from reviewers. If you have children with you, there's a little corner for them to play while you enjoy some lovely coffee. Additionally, they have an alcohol license, meaning that you can enjoy a glass of prosecco with your sandwiches if inclined.
A Cup of Rosie is located at Town Square, Bracknell, RG12 1BH
Bar Torino
This Bracknell café is a perfect lunch stop during a shopping trip. The baguettes are freshly made to order and come highly recommended, whilst the option to dine al fresco makes this a popular spot indeed. If you're looking for an Italian twist on your usual lunchtime sandwich, Bar Torino offers toasted focaccia bread with a variety of tasty fillings. As one reviewer put it, "they care about their food and coffee, and you can tell."
Bar Torino is located at 19 High Street, Bracknell, RG12 1DL
Are you in Brentford looking for the perfect pub? Take a look at our top recommendations of pubs in Brentford!
Brown Bag
An independent café founded in Windsor in 2003, Brown Bag is a regular feature on the web when it comes top coffee shops in Bracknell. Offering a wide selection of sandwiches, soups, paninis, muffins and cakes, you're bound to find something just right. All sandwiches and paninis are freshly prepared on site and Brown Bag is committed to using only high-quality, sustainable produce – that's right, you can be sure that what you eat here will be top notch and kind to the environment. They even secured a Royal Appointment in 2014, so you know they're the real deal!
Brown Bag is located at 51, High Street, Bracknell, RG12 1EA
Are you looking for a new office space in Bracknell? Take a look at our bright and modern offices for rent in Bracknell, and are only a short distance away from our recommended cafés in Bracknell!
Coffee Barker
A great spot whatever the occasion. Despite the name, Coffee Barker offers over 60 varieties of loose-leaf tea, as well as great coffee, of course! They also pride themselves on sourcing local produce for their self-described "rustic eats." Maybe you want to stick around for a while and explore the town? As the lights go dim in the evening, you'll be able to sample some of Coffee Barker's renowned cocktails, as well as an impressive selection of wines and gins.
Coffee Barker is located at 23-25 the Avenue, Bracknell, RG12 1BD
Crema Coffee Shop
This café near Bracknell doesn't just offer up the classic sandwiches and paninis, it's also vegan friendly. You'll find three types of alterative milk here, as well as a whole host of vegan treats. The staff have received glowing reviews for their friendliness, with one Dutch reviewer even saying they will "never visit the UK" without making sure they stop off at Crema Coffee!
Crema Coffee Shop is located at Terrence Road Street, Binfield, Bracknell, RG42 4DS
Are you looking for more ways to improve your carbon footprint? Here are some tips on how to go green at home!
Mason + Rye
Fancy a tasty coffee and pastry while you shop? Why not try out Mason + Rye! Located in the Lexicon shopping centre, one reviewer has described this Bracknell café as having a "calm, serene atmosphere." Mason + Rye offers a range of bakery produce and patisserie items, as well as delicious coffee options of course. If you'd prefer something savoury with your drink, their signature tarts and salads should do the trick.
Mason + Rye is located at 27 Millennium Way, The Avenue, Bracknell, RG12 1EA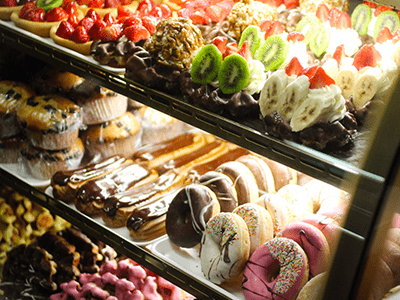 Mill Park Café
Situated in the old boathouse at Mill Park, this family run café has something for the whole family. Here, you'll find full English breakfasts, burger and chips, and jacket potatoes with a variety of fillings. There's also plenty for the kids to do, with play equipment and a skate park, as well as pond fishing for a "whole family" activity. Mill Pond is only a short drive from Access Self Storage Bracknell, so it's an easy choice if you're bringing the family along.
Mill Park Café is located at Mill Park, Wildridings Road, Bracknell, RG12 7WT
West End Farm Café
Slightly hidden away, this Bracknell café is perfect rest stop after a walk on nearby Cabbage Hill. You'll find high-quality full English breakfasts here, along with a selection of tasty cakes, omelettes and, as one reviewer termed it, "proper strong" cups of tea. The café is dog friendly too, so if you're bringing your four-legged friend along for the ride, this is the place is worth a look.
West End Farm Café is located at West End Farm Stables, West End Lane, Warfield, Bracknell, RG42 5RH
All these cafés are located a within short distance from Access Self Storage Bracknell, a modern, affordable storage facility designed for local residents and businesses.
Looking for somewhere to store a toastie maker or something else? Use our easy quote tool to find your nearest store and get a quote!