If you want to improve your fitness, mental well-being, or are just looking for something new, you could do a lot worse than giving hiking a go! Hiking is a fantastic way to get back into the swing of physical activity. You'll improve your cardiovascular system, give your mental health a boost and even enhance your creativity. What's more, it's a chance for you to develop friendships by inviting people to join you – you might even make some new ones along the way!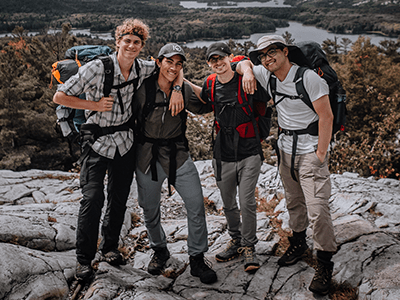 But we understand that you might have a few questions if you've never tried hiking before. "What will I need?" is probably the most common, and that's exactly what this blog post is about! All the hiking essentials for beginners, like the right boots, socks and navigation equipment will be covered here.
Hiking Boots
We'll start with an obvious one. It's critical that you get yourself a decent pair of boots because you'll be doing tens of thousands of steps in them! Make sure they fit comfortably – they should be sturdy and snug, but not tight. It's a good idea to walk around a bit when you try a pair on, and if you plan on wearing any insoles, bring them with you. Check this range of fantastic all-weather boots!
Are you thinking of building a home gym as another way to get exercise? Check out our tips on how to build a home gym on a budget!
Socks
Staying with things that go on your feet, let's talk socks. Any "hiking gear for beginners" guide would cover shoes, but having socks that are up to the job is just as important. Hiking socks are normally a lot thicker than your regular ones; you'll potentially be traversing all kinds of terrain, so this makes sense.
Hiking socks will also stop you developing blisters whilst you walk and provide your feet with some extra cushioning. The thickness of the socks should vary depending on the weather conditions. Lighter hikes in the dry weather only require thin socks, but for a more demanding trail (especially in the rain), you're best off with thicker ones. Here's a range of hiking socks!
Rucksack
Second only to what you wear, the rucksack is perhaps the most important item on this list. Why is that? Because it carries all your other essential bits of kit! For this reason, it's important that you choose something capable of standing up to the elements. Sure, it may end up costing you a bit more, but we promise it's going to be worth it! For an all-purpose rucksack, you can't go wrong with something like this.
Up the Peaks and realising you forgot to empty the loft? Check out our storage facilities in Derby, Nottingham, and Manchester.
Food
What might you put in your rucksack? Well, some food supplies are definitely a good idea! Hiking is pretty tiring, so you'll need something to replenish your energy and get you through the whole thing. But, due to the limitations on what you can carry, you want something that's both small and substantial enough to keep you going.
A good option here would be some protein bars: they only take up a bit of space, don't require any prep and the high protein makes them perfect for when the going gets tough. Buying by the box, rather than by individual bar, is a great way to keep costs down.
Map
Yes, a physical map might seem a little old-fashioned in the age of smartphones, but you can't guarantee that you will always have signal on your hike. For this reason, keeping a good old-fashioned map handy is an absolute must. By all means use a digital map app, like Google Maps Offline, but there's always the risk that something could happen to your device, so it's best to have a backup.
In the area? Check out the Access Self Storage branch in Southampton.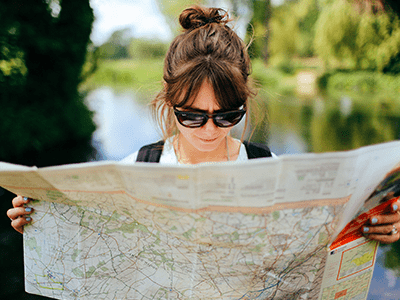 Clothing
Just like what goes on your feet, what you wear on the rest of your body needs to be hiking-appropriate too. Clothing will depend on the weather, but an essential for colder, wetter days is a decent waterproof windbreaker. For hiking beginners on a budget, these don't have to be overly expensive to work well, so don't be afraid!
Trouser-wise, it's all about something comfortable and durable, not to mention waterproof. One thing to have your eye on when shopping is how many pockets the trousers have – the more pockets, the more stuff you can carry! Check out this range of hiking trousers.
First aid kit
This is an absolute must. Depending on what kind of trail you choose to attempt, things can get a bit risky. For example, you might fall over and gash your leg on a sharp rock – don't risk an infection, make sure you bring a first aid kit! These kits tend to be sold either for single use or small group. Therefore, if you plan to trek up a hill with a large group, you're best-off buying a few. Here's an example of a medium sized kit!
Inspired by our guide to walks in St Albans? Store your gear – and anything else – at Access Self Storage Hemel Hempstead or Access Self Storage Stevenage.
Water
This should go without saying, but we will anyway! Whenever you're taking part in a physical activity, it's vital that you always have water to hand. For hiking, your best bet is a canteen flask: it's hardy and large enough to hold a good amount of liquid without weighing you down too much. Many people make the mistake of not brining enough water with them. On hot days especially, this of course spells bad news. Check out this water bottle with great reviews and comes in two sizes.
Sun Protection
Now, obviously if it's pouring with rain, feel free to skip this one. But otherwise, protecting yourself from the sun is something you can't afford not to do! Sunglasses, a hat, and sun cream are essentials if you're going to be hiking in the warmer months. Regarding the first two, you don't need to break the bank, any decent pair will do. In terms of sun cream, it's not a day at the beach, so factor 50 isn't strictly necessary – just make sure you bring something to put on your face!
Torch
We don't anticipate that beginner hiking is going to involve many night treks. Having said that, anything can happen, and you might just find yourself out when the sun goes down — best to come prepared! Most people have torches on their phones, but if you're in an open field in the pitch darkness or your phone dies so your torch doesn't work, you may thank your past self for grabbing a something brighter beforehand! It doesn't have to be huge either, there's a lot of torches out there that will fit nicely in your backpack and still leave room for lots of gear. Even better, why not try out a head torch and keep your hands free!
Wherever you decide to go, we hope you have a great trip!
If you find yourself having a hilltop epiphany to clear out your garage after all those years, why not pay Access Self Storage a visit? Get a personalised quote for storage rental near you by using our easy quote tool now.