Hiking is the perfect activity for those who enjoy spending time outside and appreciate the countryside and its scenery. There are a range of hiking trails across the UK fit for seasoned hikers, beginners and all of the family, making it a perfect weekend activity.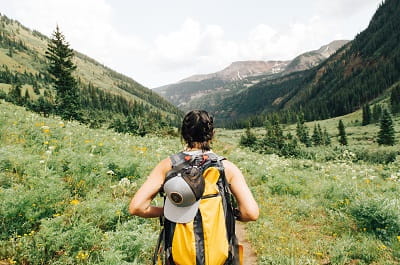 But you need to be prepared. Before you head off, it's important to make sure you know what to take hiking so that you're not caught short without the essentials, especially if you're hiking in a remote area for a long time.
With that in mind, here is a list of hiking essentials.
1. Hiking boots
If you're walking long distances, you absolutely need good shoes for comfort and support. According to outdoor activity specialists Tiso, the bestselling walking boots for men are the Meindl Men's Bhutan MFS Gore-Tex Boots and the Scarpa Men's Delta Gore-Tex Active Boot. Some of the best-selling walking boots for women include the Scarpa Women's Delta Gore-Tex Activ Boot and the Vango Women's Velan Waterproof Walking Boot. However, if you're just a beginner, it may be better to go for a cheaper boot and upgrade if you decide to keep up the hobby. Sports Direct offers a good selection and has stores across the UK – alternatively, you can shop online.
2. Warm winter accessories
It's important to have some items on you to help keep you warm during winter, especially if you're hiking at high altitudes or if you're out early in the morning or late in the evening. This Pikeur Classical Headband is shaped to ensure warmth for the ears with a fleece lining and cotton knitted outer. And the Noble Outfitters Perfect Fit Glove has a reinforced palm, adjustable wrist, and stretches to fit your hands, providing excellent comfort and durability.
Need somewhere to store your hiking gear? We have self storage locations across the UK, including Access Self Storage Bristol, Access Self Storage Southampton and Access Self Storage Battersea.
3. A fleece
A fleece is also really important for when it gets cold. The Noble Outfitters Mens Fortitude 1/4 Zip Fleece features a running gusset for easy movement and is ideal for year round use and can be worn separately or as a part of your layering system. Alternatively, outlets such as Mountain Warehouse stock a wide range of jackets, coats and outdoor wear for men and women.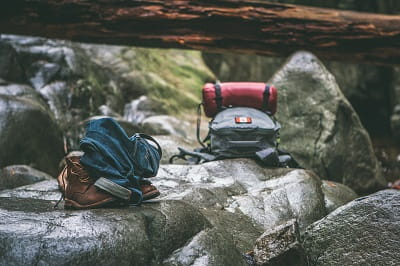 4. Waterproof clothing
Waterproof clothes and boots are crucial if you're hiking near streams and rivers and in case it rains. The Shires Team Waterproof Trousers pull over any legwear – just adjust the elastic draw cord waist for protection from the rain. These functional trousers have two zip pockets, ankle cuff adjusters, reinforced hems, reflective strips and are ideal for cooler seasons.
5. A clip
If your clothes or items do get wet, you'll want to be able to hang them to dry out as you continue your walk. This is where the Heroclip comes in handy. The clip can hang up to 22kg on your bag and is equipped with a rubber beak made to grip almost any surface. You could also use it to carry your water bottle or anything else that doesn't quite fit in your hiking essentials bag.
6. Pet products
This is one of your hiking essentials if you're bringing your dog with you. Ruffwear creates dog gear for all terrains and has collapsible dog bowls, dog boots and harnesses. Another good idea might be a fluorescent collar so you can always see them during a walk in the dark.
7. First aid kit
Even if you're a day hiker, it's really important that you have a first aid kit on you. If you or someone you're with hurts themselves out in the wilderness, it can sometimes take a while for help to arrive. St Andrew's First Aid sells an outdoor first aid kit that includes the following:
You could also make your own kit, using the above as a guide. You'll be able to find loads of first aid courses near you if you have a Google too.
8. Headlamp
You must make sure you have light on you in case you end up staying out until dark (or start early enough in the morning that it's not light yet). Expert Reviews has a good roundup of the best headlamps available.
9. Water bottle
Any exercise requires you to stay hydrated, but particularly when you're hiking. It may not always be noticeable, but hiking is a very strenuous activity, and you may not come across anywhere to buy fresh water for a while. Camelbaks are popular when hiking and come in a variety of shapes and sizes – they allow you to carry water around on your back and drink it from a straw for maximum ease.
10. Food
Not only do you need to stay hydrated but you also need sustenance. The Wired for Adventure blog outlines the best packaged meals to take on a hike, including chilli con carne and basil pesto pasta. Yum. Snacks like nuts, fruit and cereal bars for convenient blood sugar boosts are also a good idea.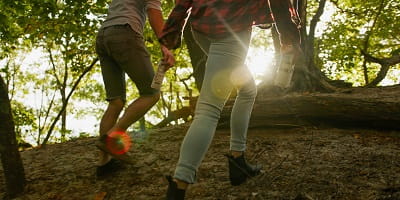 11. A watch
It's important to keep an eye on the time when you're hiking to check you haven't gone wrong on your route and to make sure you don't stay out until sundown (if that's not part of the plan). Don't rely on your phone battery for your clock – wear a sturdy, comfortable and weather proof watch instead. Here's a list from Gear Hungry on the best outdoor watches for 2019.
12. Battery pack
Speaking of phones, invest in a good battery pack so that you can ensure you'll have battery at the end of your hike if you need it. Also, be wary of very cold weather which can cause phone battery readings to show up wrong, meaning your phone could die even if it says you have 30% left!
13. Navigation tools
Whether it be Google Maps or a physical map, make sure you have your route figured out and a backup plan to get you back on track should you go wrong. You don't want to get lost, so make sure you have a system in place in case you take a wrong turn.
14. Sunscreen
Lastly, always remember sunscreen. Even if it's cold out, you can still burn, so keep a small but sturdy sunscreen on you. The Piz Buin Mountain Sun/Lip Protector with SPF 50 comes in a handy, small tube with a lip balm on top too. Two birds, one stone.
So that's our list on what to take hiking – hope you found it useful, and good luck out there!