It can be difficult knowing what to include when packing for a festival. Without the luxury of a hotel room with all of the essentials, or nearby shops, you need to make sure you take everything with you.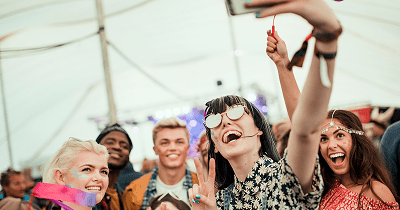 This is where a trusty festival checklist can come in handy. We've worked on one to cover all bases – whatever the weather, wherever the festival and whoever you're going with, this list should cover it all.
Festival camping
Do you need somewhere to store your festival camping gear during the winter? Access Self Storage can help. We have stores all over the UK, including Access Self Storage Bristol, Access Self Storage Battersea and Access Self Storage Fulham Broadway.
Festival food and drink
Festival toiletries
Toilet paper

Anti-bacterial hand gel

: Make sure you have a small antibacterial gel on you for toilet trips. The Aesop Resurrection Rinse-Free Hand Wash smells delicious and won't dry out your hands.

Sun block

: Even if it's forecast to be grey and rainy, you should take sun cream with you. This sun cream stick is ideal – it's small and won't leak in your bag.

Toothbrush, toothpaste and mouthwash.

Brushing your teeth is probably second best to having a shower – one of the most important things on this list!

Deodorant

Microfibre cloth

: Wipes are terrible for the environment as they never biodegrade, so invest in some microfibre cloths instead. Just add water to the cloth to wash your skin and even get makeup off. When you get home, throw them in the washing machine and they're good as new to keep using.

Body spray

: If you want to smell good without taking perfume, a body spray is a good option.

Moisturiser:

The late nights, early mornings and festival diet can take its toll on your skin. You don't need anything fancy or expensive: this fragrance-free moisturising lotion is only £1.50 and will do the job.

Plasters

: No one wants a blister to get in the way of having a good time, so make sure you have some Compeed style plasters on you.

Multipurpose cream

: A multipurpose treatment cream like Sudocrem is handy for festival-induced skin irritations like sunburn, blisters, cuts, spots, scrapes, insect bites and dry skin. It now comes in a in a dinky 22g pot, so it's easy to travel with.

Painkillers.

Paracetamol & Ibuprofen, say no more.

Towel

: Even if you don't have a shower, a towel is useful to take with you.

Tampons and pads

: Even if you're not due on during the festival, it's worth having some tampons and pads to hand. Alternatively, you might be interested in period-proof, sustainable underwear from Modibodi. They hold up to 2 tampons worth and can be worn all day which means fewer trips to (the dreaded) festival toilets.
Festival clothes
Of course, those who are more fashionable might have extra items to add to this list, but the essentials include:
Socks, socks and more socks

: You really can't have enough socks on you at a festival. Even if it's hot during the day, you'll want them for night time and inside the tent.

Underwear

Pyjamas:

When packing for a festival, don't forget to take nightwear too. You can thank us later.

Bottoms

: Remember, if you wear a jumpsuit, you'll have to take it all off when you go to the loo. Instead, opt for trousers, shorts, leggings or skirts that are comfortable to wear all day through to night and will dry quickly if you get caught in the rain. If you want to wear leggings, you might be interested in the Empower range from Love Leggings. They're made from quick-drying, sweat-wicking technology and have a controlling, supportive waistband for total coverage. They also have a hidden inside pocket to store small valuables.

Tops

: You want to be able to layer your clothes for the changing weather from day to night. When packing for a festival, include t-shirts or vests, cardigans or jumpers, and a hoodie for the evenings or bad weather.

Raincoat or jacket

: Whatever jacket you take, just try and make sure that it's waterproof. Ideally, it should have a hood and pockets on the inside and outside.

Shoes

: Wellies, trainers and sandals should be enough. Wellies for rain, trainers for all weather and sandals for sunshine (or just to wear in and around your tent).

Scarf and hat:

Just in case it gets cold.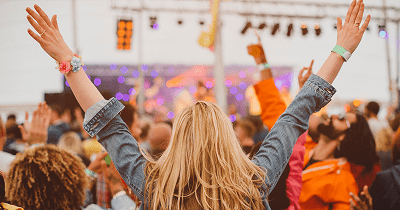 Other festival essentials