Family camping holidays sound idyllic but in reality, often make for a sleepless night in extreme temperatures alongside loud, ominous noises that can't be ignored. Until now. Camping trips have been given the glam update that they need – think wooden shacks, yurts and tents with kitchens, heating and a proper loo. Marvellous.
Barefoot Yurts
If you're looking for a Mongolian cloud house experience (and who isn't?) then Barefoot Yurts is the perfect family friendly glamping destination. Based in Rye, East Sussex, you can book two yurts together on the edge of woodland. The views across the Brede Valley are stunning and there many local pleasures, including Rye Harbour Nature Reserve, water sports on the beach, historic castles and famous gardens.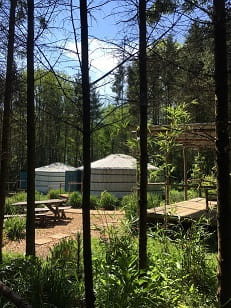 Contact: Further information and bookings can be done via the website.
Price: Prices per night start from £130.
Amber's Bell Tent Camping
Based in North Norfolk, Amber's Bell Tents is a small, friendly family campsite. They supply everything you need, including beds, cooking facilities, kitchenware, lanterns and a fire pit for outside cooking and campfire fun. Each tent has one double bed and up to three single camp beds, so bookings are generally limited to two adults and three children per tent (although, it does say on the website to still enquire if you need more room)
You can explore the woods and wetlands of Mannington's grounds, or the coastal paths and farmland of Wiveton or lovely market towns such as Holt and Reepham and the coastal villages of Cley and Blakeney.
Contact: Booking can be made online via the website.
Price: Prices start from £95 per night.
Canvas & Clover
Based in Worcestershire, Canvas & Clover is a luxury campsite situated on a working farm and one of the best locations for UK family glamping holidays. It has 10 safari tents available for hire and each sleeps up to five people comfortably. There is a fire pit for toasting marshmallows and a garden shed for storing wellies and coats, with a gas stove for cooking. There's plenty for kids to do, too – they can get to know the resident farm animals and you can arrange farm tours on request. West Midlands Safari Park is also nearby, which is home to everything from tigers to penguins.
If the weather turns, there is a covered area to shelter in with books and games. There are also plenty of places nearby to explore including Worcester, which is just seven miles away.
Contact: Bookings can be made online via the website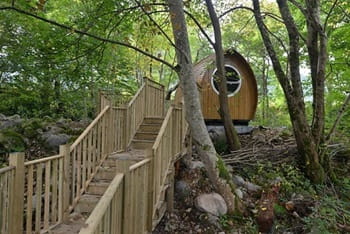 Price: Prices start from £95 per night, with a minimum two-night stay.
Little White Alice's Eco Arks
If you're after family glamping with a hot-tub, this could be the place. Little White Alice is an eco-location in Cornwall with two Eco-Arks - Uath and Luis. Uath is the bigger option of the two as it can fit up to five people, whilst Luis can fit up to three. The eco-arks have open plan living and sleeping areas, with oak kitchens, complete with a full-size oven. Both properties have a shower room, a TV, DVD and Wi-Fi. They're also dog-friendly so all the family can holiday together.
There is plenty to do here for adults and children - the Wild Spa will be the selling point for some. You'll find a wood burning hot tub, a wood burning sauna and the ultimate cold bucket shower. The Sanctuary Room overlooks a wild life pond, too. If that doesn't sound like the ultimate luxury getaway, we don't know what does.
Contact: Bookings for Uath and Luis Eco Arks can be made online via the websites
Prices: Prices start from £298 with a minimum of three-night stay.
Wigwam Holidays Humble Bee in North Yorkshire
Part of the Wigwam Network, which has over 80 sites across the British Isles, Wigwam Holiday Humble Bee is situated in an idyllic rural location in the heart of the Yorkshire Wolds.
The site includes four en-suite Running Water Deluxe Cabins with wood fired hot tubs (making it another contender for family glamping with hot tub), sixteen spacious Big Chief Cabins, four Nomadic Yurts, a small campsite and three luxurious holiday cottages. The glamping accommodation takes up to a family of four in each unit, and the site has two facilities blocks and a play area.
In 2018, to celebrate ten years in business, the site has created an interactive Nature Trail in which kids of all ages can spot the seven signs of wildlife around the farm.
There is also a bird observation hut, a duck pond, and new for 2018, a playing field complete with goal posts for the odd game of friendly footie. As Humble Bee is based between Filey and Scarborough, it has easy access to the golden beaches of the Yorkshire Coast.
Contact: Booking can be made online via the website.
Prices: Tariffs vary seasonally; during the summer £30 per adult per night and £16 per child per night if staying in one of the Big Chief Wigwam Cabins.
Camping holidays can be the perfect retreat – a way to recharge, get offline and reconnect with nature. But it's hard to deny that it's made easier with a ready-made bed, central heating and a proper shower. So get the kids in the car and get the modern version of the camping holiday – your kids will remember it forever.
Anything you need to keep safe during your UK family glamping holidays? Our branches all around the country have secure, flexible storage units alongside covered loading bays to make storing your things as easy as possible. Contact our team today to find out more.