The keys to staying safe while dog walking in the dark are planning ahead, being as visible as possible – making use of lights and other products – and making sure you can see where you're going.

Whether it's short winter days or existing commitments that have pushed you to walk your dog in the dark, it's perfectly safe – and most dogs don't seem to mind. Here is some more information about the safety precautions you can take to ensure that you and your canine companion make it back safely.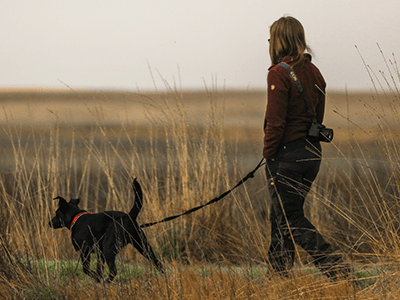 Be seen
Visibility is key when it comes to safely walking your dog in the dark. One of the most significant risks to both you and your pet as you go dog walking in the dark is getting hit by a car, so take precautions to ensure you're visible to headlamps. Reflective gear marketed for cyclists is ideal for this purpose, as it's often affordable and lightweight. You can also purchase reflective collars and leashes for your dog.
There are also a range of lights for walking dogs at night, most of which attach to the dog's collar. This ensures that the dog remains visible regardless of whether it's in a car's headlamp, streetlight, or other light source. Some dogs find the light irritating, but most are not particularly bothered by it.
Dogs actually have better night vision than humans, but they're not renowned for their great vision in the first place. Just like us, they're vulnerable to getting spooked by mysterious objects in the dark – but unlike us, they may also go chasing after them. To ensure that you don't lose track of an overly excited dog, either keep your dog on the leash or use a LED dog walking light attached to the collar.
If you live near Access Self Storage Guildford or Access Self Storage Byfleet, check out our recommendations for walks in the area.
Look where you're going
Another major category of risks to the night or early morning dog walker is failing to see dangers in their path. If you're planning on walking in an unlit area, bring a flashlight. It's also advisable to keep your ears out for the sounds of other dogs and walkers, cyclists, joggers, and other potential obstacles you wouldn't want to run into – so that means no listening to music through earphones or headphones.
It's also worth considering your route in advance to ensure that you don't put yourself in danger. Try to stick to well-lit areas that both you and your dog are familiar with and stay on paths wherever possible. If you're walking on roads without a pavement, be sure to walk against traffic so you can see oncoming drivers. Consider walking with another person if you have concerns about the safety of the area you're walking in.
Get company
Not only does asking a friend or family member to join on your walk give you extra safety, it's also a good excuse for a catch up!.
By going on a walk with someone else, you have extra support with your dog, and someone to help if anything goes wrong.
Charge up!
Make sure you take a fully-charged phone on your walk and have the appropriate phone numbers saved, such as a taxi service, emergency vet, family member and 999.
Your phone can also act as a torch and navigation tool to help you map your route in the dark.
If your nearest facility is Access Self Storage St Albans, Access Self Storage Hemel Hempstead, or Access Self Storage Stevenage, we've put together a list of great walks in your area.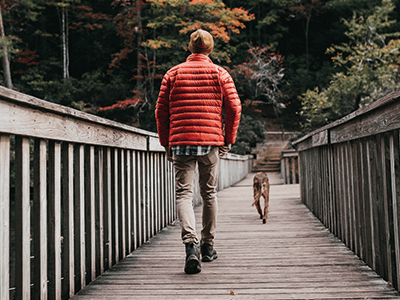 Best products for walking dog at night
In addition to the essentials that you need whenever you take your dog out – bags, a collar and a leash – there are plenty of products that can make it easier and safer to walk your dog at night. We've found that these are some of the best products for walking a dog at night:
A dog walking light that hangs from their collar
These are often battery-powered, and often last many months on a single coin battery – unless you forget to turn them off when the walk is over. Collar lights range in price from around £2 to £25, with the main difference being price – the more you pay, the tougher the light will be. If you're going dog walking in the dark frequently and your dog doesn't mind a collar light, it may be worth investing in a more expensive one. Here are some options:
A light-up collar
A light-up collar is an alternative to a collar light and costs around £15 or more. Compared to clip-on collar lights, light-up collars are larger and brighter. They come in both battery-powered and rechargeable varieties, with the latter being more expensive. As with a collar light, be sure to check how tough it is – as well as whether it's water-proof or water-resistant – before setting out. We recommend:
A torch or headlamp
You need to see where you're going if you're not walking in a well-lit area, so consider a torch or headlamp. Torches can get extremely expensive, but you just need to see where you're going, so you don't need anything particularly powerful. Headlamps are a great alternative if you prefer to keep your hands free and cost a similar amount. Try one of these:
A reflective vest
Both you and your dog may benefit from a reflective vest, which makes you more visible to cars and cyclists. For humans, it's often easier to find these vests in cycling stores or sold online as "reflective cycling vests" ("reflective vests" usually refers to the type used by construction workers). They cost from £5 to £40, with more money purchasing a lighter, more breathable material. If your dog isn't bothered by wearing clothing, reflective or safety vests are available in a range of sizes and usually cost a similar amount to their human counterparts. Here are some examples:
Glow in the dark toys
If your dog's walk isn't complete without a game of fetch, dog walking in the dark presents a challenge. Fortunately, there are glowing flying disks and balls available for around £10 which offer a solution. We recommend these:
Stay safe and have fun
If you take a few simple precautions, it's perfectly safe to walk your dog in the dark. If you know where you're going and have your furry friend by your side, dog walking in the dark can even be an adventure for you and your pet.