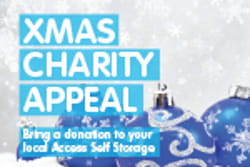 We think that Christmas without the sparkle and shine of fairy lights, tinsel and decorations would be truly miserable, which is why the focus of our charity fundraising activity this year is to bring a smile to as many faces over the festive period as we can - and we need your help to do it!
This Christmas, join our nationwide team at Access Self Storage by donating decorations so that we can bring extra festive sparkle to 23 beneficiary charities we've cherry-picked to benefit from the Access Self Storage Christmas appeal.
We've been running Christmas charity appeals throughout the UK for the past five years to great effect. The astonishing generosity from customers and local communities throughout the country has enabled us to bring tens of thousands of toys to children. This year we're hoping for another amazing response.
Our 2014 Christmas campaign will support 23 different charities including, Rainbows Hospice, Home-Start Islington, The Children's Adventure Farm Trust, St Mungo's Community Housing Association, Salvation Army and many more. But we can't do this alone! We need your help!
Whether you're a business based at our units, someone who stores with us, or a neighbour living close by, we need you to pitch in. Help us make this Christmas one to remember by lighting and brightening up the community with trees, lights, baubles, bells and stockings and donate any unwanted, new or nearly new Christmas decorations to a local store.
We're proud to be supporting the local communities who support us so much throughout the year. We think this is really important: which is why all of our stores will be involved in this year's charity campaign. Last year the public support for our campaign was incredible and we are really hoping that we will be able to top it again!
We're asking people to start donating now so that the decorations can be delivered in plenty of time for Christmas. As it gets really busy around the holiday season, to make sure you're decorations are delivered in time for Christmas, please bring them along as soon as possible to make sure they get to where they're most needed in time.
As charity begins at home, we'll also be decking our own halls to cheer up our hardworking staff in the run up to Christmas!