Did you know that Bristol is world-famous for its street art? Seriously, if you find yourself in the Bristol area, you really need to check some of it out.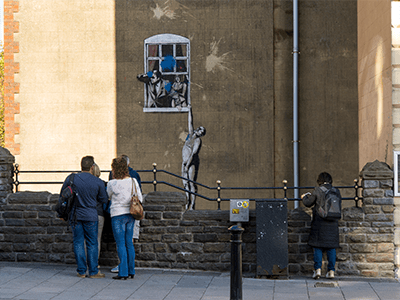 However, you might only be in town for a few hours and there's so much to see that we wouldn't blame you for not knowing where to begin. That's why we've put together our top five Bristol street art picks. So without further ado, and in no particular order, here are the sights you simply can't miss on your next trip!
Nelson Street
If you want to check out a lot of artists in a relatively small vicinity, this is your place. Nelson Street is packed full of impressive murals, with some awe-aspiring stuff from artists Styx and Aryz that practically cover the sides of entire buildings! The iconic "Mother and Child" from El Mac is also here.
But we can't talk about Bristol graffiti without mentioning some Bristol Banksy works here – the world-famous street artist famously cut his teeth in Bristol and you can see the famous "Hanging Man" in College Green. Nelson Street even hosted the first ever See no Evil in 2011, a street art festival organised by Inkie, one of Bristol's top artists.
Easton
This is the part of town where you'll find the most Banksy originals – apparently, he once lived here. Although his works were considered a nuisance at the time, the area has become a pilgrimage site of sorts where street artists can see how this Bristol graffiti artist's journey began. Here, you'll find Banksy's "Cat and Dog" piece, as well as a restored version of his "Masked Gorilla" – the original work was accidentally painted over.
Are you an art student looking for ways to store your art equipment? Great news! We offer student storage in Bristol.
Bedminster
This area of Bristol might well be the world capital of street art. Famous for Upfest, a world-renowned street art festival that takes place each year, Bedminster's streets boast around 150 quirky and intriguing pieces of Bristol street art that are definitely worth a look. During Upfest, you can even get a guided tour around the neighbourhood, visit each piece and get a history lesson on the backstory of all of them. We highly recommend this if you get the chance!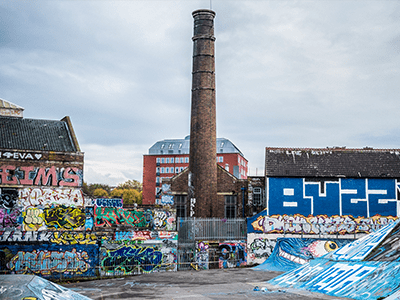 Stokes Croft
Another hotspot for Bristol graffiti. This area is located near the Bearpit in the centre of town – also the site of many murals. Stokes Croft has fought hard to maintain its unique character, and this is reflected in the street art you'll find here. Visual protests against the Tesco that moved into the area highlight the local residents' feelings towards commercialism. If you walk up to Jamaica Street, you'll find murals on rotation – that's right, they change all the time! There's also the PRSC gallery here, where you can purchase paintings from the nearby Jamaica Street Studios.
Check out the top family attractions in Bristol
Park Street
This street is typically Bristolian – meaning it's hilly and full of wonderful street art! Of course, you'll find a famous Bristol Banksy here (his "Police Sniper") piece, but that's not all. Fellow Bristol street artist Jody's "The Florist", can also be found here – it's beautifully realistic and well-textured!
Banksy famously paid Bristol council just £1 to hire the nearby Bristol Museum and Art Gallery for his 2009 "Banksy versus Bristol Museum extravaganza". In the end, the event raised tens of thousands of pounds for the city's economy. You can also still find a Banksy work from the event called "Graffiti Paint Pot Angel".
And that just about does it! We hope you enjoyed this post and feel inspired to check out some of the locations. If you're looking to store your art supplies – or just about anything else – check out Access Self Storage Bristol.
We offer cheap, modern storage in a range of sizes, and our friendly staff are happy to help you however they can. To get started, all you have to do is use our easy quote tool.