From the city's bustling restaurant and bar scene to its fascinating history, impressive universities and multiple "best British city to live in" award wins, there's a lot to like about Bristol. One thing that parents in the area are particularly grateful for is that there are so many Bristol attractions for families.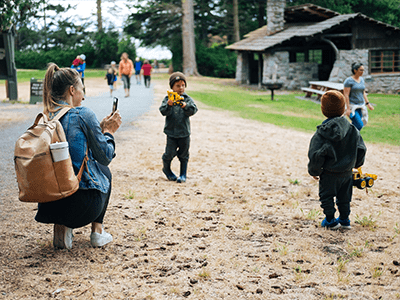 We've spoken with the staff at Access Self Storage Bristol to put together a comprehensive list of the top Bristol attractions for families. We haven't put them in any order, since each attraction appeals to children of different ages and interests – but, fortunately, the city has something for everyone!
Stimulate a love of science at We The Curious
We The Curious is an engaging science exploration space designed specifically for young people. The facility's fixed collection with over 300 exhibits designed to encourage children to question the world around them, the site hosts an electrifying array of visiting exhibitions, so there's always something new to see.
Visit the SS Great Britain
Revolutionary engineer Isambard Kingdom Brunel designed the SS Great Britain, the world's first ocean liner, in the mid-1800s. Today, it serves as a history and engineering museum, and Bristol's number one tourist attraction. Kids can explore the museum and historic dockyard, and young ones get a free hat and activity bag with admission. They host a range of Victorian-themed educational events held year-round for you and your family to enjoy.
Are you looking for other ways to keep your kids entertained? Well, we've got five DIY projects to keep your children busy!
Go wild at the Wild Place Project, Bristol Zoo, and Noah's Ark Zoo Farm
Animal-loving children are spoiled for choice when it comes to Bristol attractions for families. The Wild Place Project hosts an impressive array of baboons, cheetahs, and lemurs, among others. The park's central attraction is a skywalk that takes you over the habitats of creatures that used to live in Britain's woodlands, including bears and wolves!
Not to be outdone, Bristol Zoo has its own set of amazing wildlife, including penguins, pandas, and gorillas. The zoo also hosts events targeted at a range of age groups, including early-morning tours for a quieter animal experience.
If your little one is looking for lions, your best bet is Noah's Ark Zoo Farm. This zoo combines elements of a traditional zoo with a petting zoo, enabling children to safely get closer to wildlife than they can anywhere else. Families can sign up to "animal encounters" such as a behind-the-scenes visit with a giant tortoise!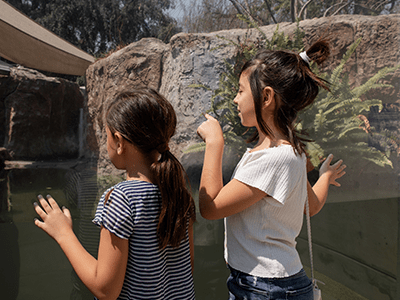 Get adventurous at Leap of Faith and Go Ape
If watching the monkeys at the Wild Place Project inspires your child to start climbing, you're in luck! Co-located with the Wild Place Project is Leap of Faith, a high-rope climbing facility with all sorts of activities – including the famous "leap of faith!"
Alternatively, young ones can take to the high ropes for a treetop adventure at Go Ape in the Forest of Dean. The high-rope facility, which takes participants right up among the treetops, has safe options for kids of all ages. Parents can also take to the ropes, making this the site of many memorable family days out in Bristol!
Is rain ruining your plan to visit Leap of Faith or Go Ape? Not to worry! Take a look at the top things to do in Bristol on a rainy day.
Go underground at Wookey Hole Caves
The UK's largest publicly accessible cave system at Wookey Hole is an exciting way to spend the day. After following the path through the dramatically illuminated natural caves, kids will emerge into the site's other attractions – all 20 of them. That's right, Wookey Hole is also home to dozens of the most exciting Bristol attractions for families, including animatronic dinosaurs, hands-on experiences at a historic paper mill, a theatre, and much more.
Travel through time at M-Shed
One of the top family things to do in Bristol is visiting M-Shed, an interactive museum of the city's history. The site covers Bristol's story from prehistoric times to the present day, making it an entertaining and educational way to spend a day. The museum also has a regular slate of events all around the city, so keep an eye on the website.
Lift off with Aerospace Bristol
There aren't many places in the world where you can still board a Concorde jet, but Aerospace Bristol is one of them. This sprawling facility covers over 100 years of aviation history in an accessible and often hands-on way. When they're done indoors, there's also an aircraft-themed outdoor play area to burn off some of that extra energy
Struggling for storage in your child's bedroom? Here are our top five child-friendly storage solutions!
Take the plunge at Bristol Aquarium
For a visit to the world under the waves, you can't beat Bristol Aquarium. The aquarium offers a range of exhibits in over 40 tanks, including a stunning underwater tunnel which lets fish swim directly overhead.
And, as if that wasn't enough to earn the aquarium a spot among the top Bristol attractions for families, entry to the aquarium also includes access to the giant botanical house. The greenhouse, which is called the Urban Jungle, gives kids a taste of the Amazon rainforest right in the heart of Bristol.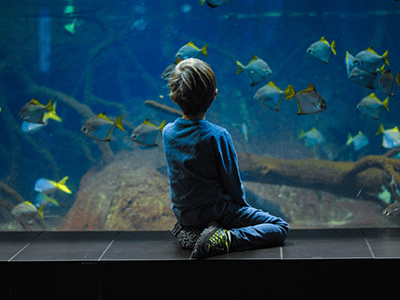 Wander the Blaise Castle Estate
At 650 acres, there's more ground at Blaise Castle than even the most energetic young ones can cover in a single day! There are a range of marked paths available, as well as a museum detailing life through history – keep an eye out for the historical toys!
Once they've had their fill of the castle itself, children can go play in the grand play area, which includes a multi-level climbing area, zipwire and much more. The variety makes Blaise Castle one of the top family days out Bristol has to offer, especially when the weather is good.
Visit Bristol's many playgrounds!
If you're wondering what to do in Bristol on a budget, chances are that you're within walking distance of a top-notch playground. These are some of the most easily available and flexible Bristol attractions for families. Kids can traverse the ropes at Victoria Park, get lost on the paths in Canford Park, or, in the summer, check out the outdoor paddling pool at St Andrew's Park.
The largest playground is Hengrove Play Park, an expansive and varied park with carefully designed areas for kids of different areas. Older children may also enjoy the wheels park, which offers half-pipes, grind bars, and bowls. Aspiring BMXers, rollerbladers, and skaters should also pay a visit to St George's park.
Are you interested in self storage? Find out more about our self-storage facility in Bristol, or try our store search to find your nearest facility.