From charming greasy spoons to artisan European-style cafés and Aussie-inspired coffee joints, Streatham offers an incredible range of options for locals looking to get their caffeine fix. Supporting local businesses is more important than ever, so consider skipping your coffee at one of the major chains and stopping by these top-notch Streatham coffee shops instead.

Rather than ranking them, we're providing our list of the top Streatham coffee shops in alphabetical order, since each of them offers something unique. We recommend checking out all ten and seeing what coffee Streatham has to offer!

Batch & Co Coffee
Located on Streatham Hill, the trendy Batch & Co Coffee shop is regularly listed as one of the best Streatham coffee shops. They get their single-origin coffee from Guatemala via Caravan, a popular London coffee roaster, and the friendly baristas can manage any number of elaborate drinks. In addition to their carefully crafted coffee, locals stop by for grilled sourdough toasties and bagels, as well as a range of cakes made on location.
Batch & Co Coffee is located at 54 Streatham Hill, SW2 4RD.
Batch & Co Coffee have another coffee shop located at 212 Streatham High Road, Streatham, London, SW16 1BB.
Big Bad Wolf Coffee
Just across from Streatham Green is Big Bad Wolf Coffee, a regular haunt for coffee aficionados. The café differentiates itself by providing coffee brewed in a variety of ways, each of which highlights unique tasting elements in the beans they source from around the world and roast in-store. While you're there, try this Streatham café's sweet and savoury crêpes – the perfect counterpart to a nice espresso.
Big Bad Wolf Coffee is located at 12 Mitcham Lane, SW16 6NN.
Brickwood Coffee & Bread
Combination coffee shop and bakery Brickwood Coffee & Bread is one of a small chain of Aussie-inspired cafes in London – the other stores are in Clapham, Tooting, and Balham. The café's Australian roots are clear in the signature drink – an iced mocha with a double shot of espresso and plenty of chocolate. Well behaved dogs are welcome in this Streatham coffee shop.
Brickwood Coffee & Bread is located at 292 Streatham High Road, SW16 6HG.
Looking for coffee near Access Self Storage Clapham? Check out our list of the best coffee in Clapham
Brooks & Gao
A little slice of Europe in a Streatham café, Brooks & Gao offers outstanding coffee along with seasonal dishes, cheese and meat plates, and wine. The café also serves as a grocer, selling on the fine produce it uses to locals. The coffee is second to none, and the artwork in the foam is decidedly Instagram-worthy. Many people in the neighbourhood like to work from Brook & Gao, fuelling their productivity with some of the best coffee Streatham has to offer.
Brooks & Gao is located on The High Parade, 28 Streatham High Road, SW16 1EX.
Café Barcelona
The cosy Café Barcelona serves up hearty breakfasts, toasties and coffee all day long. The team behind the counter are experts with the espresso machine and can serve up a range of top-quality coffees. Don't leave without trying this Streatham café's famous pastel de nata – homemade custard tarts.
Café Barcelona is located at 344 Streatham High Road, SW16 6HH.
The Electric Cafe
If you like your coffee from a classic, family-run London caff, you'll be hard-pressed to do better than The Electric Cafe, which has been serving up tea and coffee since 1932. The coffee is strong and simple, and it's the perfect pairing to their menu of full English breakfasts, pies, and bubble and squeak – Lonely Planet listed this Streatham coffee shop as one of the world's top 500 food experiences.
The Electric Cafe is located at 258 Norwood Road, SE27 9AJ.
Estate Office Coffee
With 4.8 stars according to reviews on Google, Estate Office Coffee is extremely popular among self-professed coffee snobs. Their coffee starts with beans grown in Rwanda, El Salvador and Columbia and roasted in London by Mission Coffee Works. The friendly baristas at Estate Office then expertly use the shop's La Marzocco machine to produce some of the best espressos, americanos, and cappuccinos in Streatham.
Estate Office Coffee is located at 1 Drewstead Rd, SW16 1LY.
If you take your canine companion with you on your coffee trip, check out our safety tips for dog walking in the dark.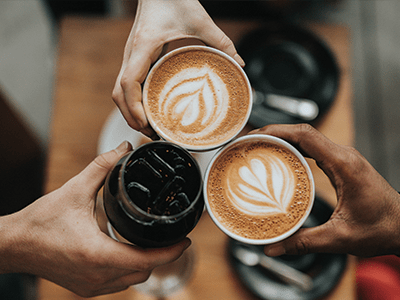 Filling Station Café
This Streatham coffee shop, located just across from the station, serves high-quality coffee at reasonable prices. Commuters love the Filling Station Café's casual atmosphere and reliable service, and the "coffee and a pastry" deal keeps people going back for more. The macchiato and mocha options are particularly popular in the winter.
The Filling Station Café is located at 235 Streatham High Road, SW16 6EN.
I Love Coffee
If the name of this independently owned café is something you might say, you should check it out. The contemporary Streatham café offers a broad selection of coffees – including plenty angled at those with a sweet tooth. The condensed milk based Bombon is a delightful year-round treat, and the baristas dream up a range of sweet, warming drinks every winter.
I Love Coffee is located at 126 Streatham High Road, SW16 1BW.
Wholemeal Café
This café delivers homestyle vegetarian cuisine and a range of thoughtful coffees served at pine tables. The Wholemeal Café has been serving up coffee since 1978, as well as a menu of tasty veggie and vegan dishes. The "world-famous Banoffi pie" is extremely popular, and it pairs nicely with the Streatham coffee shop's doppio espresso.
The Wholemeal Café is located at 1 Shrubbery Road, SW16 2AS.
All of these shops are within walking distance of Access Self Storage Streatham, a cheap, modern storage facility purpose built for local residents and businesses. If you're looking to store an espresso machine, or anything else in the area, contact us for a custom quote.