Often referred to as "the heart of Surrey", Guildford is a great commuter town, has some lovely historic architecture to admire and is surrounded by gorgeous English countryside. But to truly experience the town, you can't miss out on the nightlife!
Whether you're looking to move to the area or are just visiting, our Access Self Storage Guildford team have put together their recommendations for the best bars in Guildford – enjoy!
Komo
If you're looking for a cocktail bar, Komo is the place to go. The menu alone is worth a visit, featuring cocktails such as the 'Funky China Town' – a mix of So Co, lemongrass and hibiscus – and the 'Why the Mexican threw his wife off a cliff', containing sherry, agave and rosemary. It costs a bit of money to get in (normally £5) but once you're inside, you're promised a night of dancing and some of the most creative drinks around.
Useful info: Closed Sundays and Mondays. Open on Friday from 5pm – 2am, Saturdays 6pm – 2am and 5pm – 12am the rest of the week.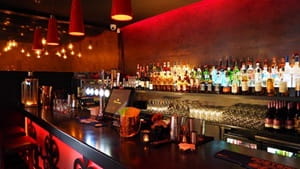 All Bar One Guildford
All Bar One is a chain, so you might have heard of it before. It's a safe option if there's a big group of you looking for beer, cocktails and wine, and you can also get some decent sharing plates. They're also offering a new wellness menu, full of super foods to help you get your five-a-day in between rounds.
Useful info: Open Monday – Sunday, most days from 10am – 11pm.
Open on Friday 10am – 12am, Saturday 9am – 12am and Sunday 9am – 10pm. You can check out the menu online and book a table, too.
Bar Thirteen
With happy hour every day apart from Tuesdays, Bar Thirteen is a great place to go to have a cheaper round of drinks with your friends. Lots of cocktails are perennially on offer alongside American-inspired food. Bar Thirteen also offers cocktail making masterclasses for groups, and themed club nights including a monthly inflatables party. Who knew that was even a thing?
Useful info: Closed on Sunday and Tuesdays. Open until 3am every other day. Cocktail masterclasses start from £19.95 per person. Dress code is Smart (No hats, Hoodies, Tracksuits) Tickets for specific events can be bought in advance via the website.
Five and Lime Bar
If you're looking for a more authentic pub vibe, Five and Lime might be the right spot for you. Described as a 'smart pub with exposed brick' you can relax in the beer garden with a pint and a meal, or venture inside for a dance.
Useful info: It's closed on Sundays but open from 5pm every other day and closes at 1:30am on a Friday and Saturday. You can book a table by calling 01483568979.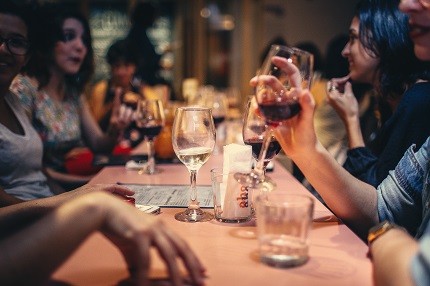 Rogues Bar
Located just off the main high street, Rogues Bar has a particularly big garden with loads of comfy seating, so is one of the best bars in Guildford for a big group that wants to catch up over a few beers or some wine, with the option of fresh air. It's also only open to over-25's and ideal for seeing music at open-mic nights and trying your luck at the regular pub quiz.
Useful info: Don't let the cold and rainy weather put you off, as the beer garden has outdoor cover and some heaters.
Pews
Pews is one of the best bars in Guildford if you're looking for some live music. Acoustic sessions start from 9pm every Friday and they have a different artist on every week. If you're looking for a girl's night out, head down to Pews on a Friday for Ladies night, where you can get a bottle of house wine for £10. That definitely beats London prices!
Useful info: Open 12pm – 1am on Friday and Saturday, 12-7pm on Sunday and 3pm – 12am the rest of the week. You can click here to make a reservation.
So, there you have it, the best bars in Guildford, according to our team on the ground. There are lots of options, so if you're looking to move to the area or you're just visiting, you'll be sure to find somewhere to have a good time.
If you are moving to the area, remember that our Guildford storage units also offer large vehicle access, covered loading bays and an array of packaging materials. Get in touch with the team today for more detail.