Green Owl Toys Ltd which specialises in selling beautifully hand-crafted wooden toys has been shortlisted for this year's Access Self Storage 2019 Business of the Year Awards.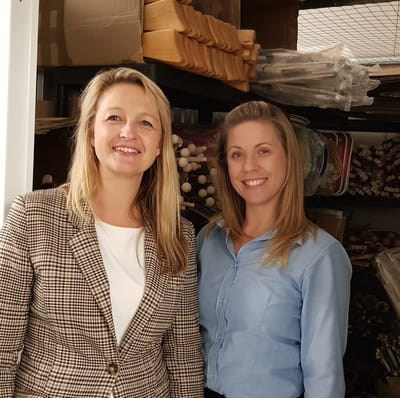 Owner of Green Owl Toys Izabela Hailey in her storage unit with and Access Self Storage team member Dee from Orpington Access Self Storage
The business sells eco-friendly, wooden, toddler toys and wooden, hand-crafted 'swords and shields' for aspiring knights and dragon slayers. It is owned by designer and manufacturer Izabela Hailey. Since launching from Izabela's garage in 2009, Green Owl Toys has grown and now operates out of Access Self Storage Orpington.The company, with their family-friendly, sustainable ethics and zero-plastics policy, are enjoying commercial success. As the business is expanding, Izabela is looking to the Far East to source traditional hand-made wooden toys with which to expand the range.
Izabela said: "Due to Green Owl's success I am now looking to move into larger storage with Access who provide forklift services. This is to accommodate an increase in quantities with bi-annual deliveries from the Far East. With Access, the move to this next level of operating will be far less daunting and more easily achievable. We would be thrilled to win this award and the business support would go a long way to help our plans for growth in 2020."
Izabela goes on to say: "Access Self Storage offers flexible, safe and easily accessible storage. Everything a business needs is at your fingertips, even down to the stationary required for packing and storing. Access accept deliveries and allow short term storage for courier pick-ups which occur around-the-clock. The staff are helpful and experienced, with quick solutions to business issues when they arise. I also enjoy the business community that Access naturally have. I find this helpful for support and advice."
The 2019 awards have seen hundreds of nominees with incredibly high calibre applications. An expert judging panel had the difficult job of narrowing the field to seven finalists who have shown initiative to successfully thrive and develop their business by working out of a storage unit.
One of these exceptional applicants will be in with a chance of winning a business package worth £2,500 and the much coveted prize of Access Self Storage Business of the Year.
Kevin Pratt, spokesperson for the Access Self Storage Business Awards, said: "Thousands of businesses run from our 58 stores across the UK. We want to champion the entrepreneurs who are surviving the squeeze on the high streets and making the most of the business services we offer to keep their overheads low. We have had brilliant applications this year of truly entrepreneurial and varied businesses that run out of our units."
Chris Isted, store manager for Access Self Storage Orpington, said: "We are really excited about our Business Awards 2019 and thrilled that Green Owl Toys has been shortlisted. We love getting to know the people behind the businesses and Izabela is a perfect example of how entrepreneurs can use storage units like ours to support their success. We wish Green Owl Toys the best of luck!."
The shortlist for the Access Self Storage Business Awards 2019 is:
The winner, who will receive free Access Self Storage services such as office space, storage, parking and mail boxes, a dedicated Access Self Storage networking event with the winner as guest of honour, a celebratory dinner and media opportunities, will be announced on 11th November 2019.