Customers already love the convenient location of our Northampton branch, and we're pleased to announce that we've just added 25,000sq ft of additional space (particularly useful for commercial customers). That takes the footprint of the extended store to 65,000sq ft - almost the same size as the White House and the size of five Olympic swimming pools. The expansion gives Northampton an additional 225 self storage units which are great for business owners in the area.
Over 70 local businesses already operate out of the store, and this extension will provide more space and improved access for all sizes of commercial vehicles. Additional services such as forklifting and storage-handling equipment make moving in much easier and give business customers even greater flexibility.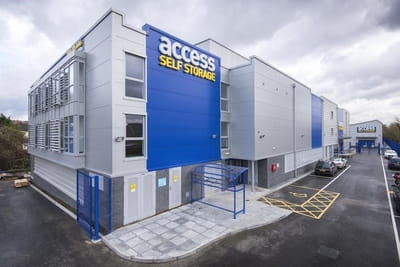 The 225 additional storage units created by this expansion range in size from 16sq ft to 500sq ft and offer businesses the flexibility to up- and down-scale their storage depending on their needs and seasonal requirements. This flexibility makes commercial customers resilient against changing political climates, as we are seeing with Brexit, or temporary supply chain issues that might be beyond their control.
We've also set up a comfortable workspace with free WiFi, perfect for businesses looking for a new space to work in.
The manager of our Northampton branch, Hasita Patel, says: "This expansion is really exciting for us. It will hugely increase our capacity for commercial customers and help us run more efficiently, supporting local businesses where they need us the most. We're finding that more and more Northampton businesses are realising the benefits of working out of a storage unit. The flexibility and short term contracts combined with office services, 24 hour access, security and availability of handling equipment make Access Self Storage an ideal option for start-ups who can't afford high street rents, as well as larger companies that use our storage facilities, business knowledge and support staff to efficiently grow and scale. We're offering new customers half price storage for their first few months until the 30th of November to encourage new businesses to join our business community."
One thing that hasn't changed is our address and phone number, so don't hesitate to pay us a visit or give us a call:
Access Self Storage Northampton
Tollgate Way
NN5 5TW
0808 250 4198
With over 50 sites nationwide, Access Self Storage has the complete package for anyone wanting secure and convenient storage with a friendly, hassle-free service.
We have a wide range of office space to suit all small businesses, along with phone-answering, PO-box rental and a specialist document management centre.