Can you believe The Access Self Storage Business Awards has been running since July?! Well, we had many worthy nominees to choose from, so it was bound to take ages. With Echno, Bee Good, Race Solutions, Sous Chef, Sandhurst Interiors, and Wedding Smashers making the final, it was always going to be tough; they're all deserving of great credit and acclaim. Choosing only one was enough to give our panel of judges a big ol' collective headache.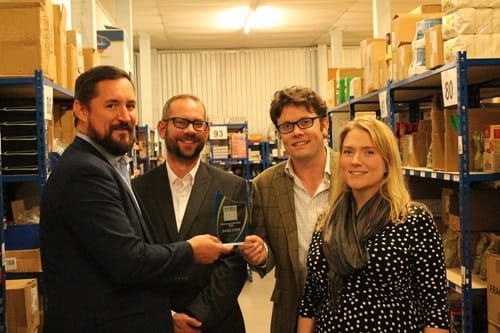 They're all winners in our eyes – but especially Sous Chef, the actual winners. With over 100 SMEs longlisted for the trophy (plucked from the 6,000 companies currently using Access Self Storage facilities nationwide), the creative cooking company that helps amateur and professional chefs emulate the recipes of their culinary heroes takes the acclaim.
Judge Alon Shulman – who, as an award-winning entrepreneur and creator of Entrepreneurs' Universe, knows his stuff – said: "Sous Chef has created a thriving online business that taps into the public's passion for creative home cooking.
"Nick Carter and Nicola Lando have developed their business smartly and organically, using space at Access Self Storage to store products that are shipped internationally and manage deliveries."
The rest of the judging panel cited Sous Chef's passion, resourcefulness, and strategy as an exemplar of how the seeds of a small idea can grow into a profitable international business – while keeping operating costs at a minimum. Shulman added: "With ingredients and methodology in the kitchen becoming increasingly important, we envisage fast manageable growth for Sous Chef and are delighted to champion this worthy endeavour."
Access Self Storage introduced these awards with the goal of recognising those companies who have survived the recession and thrived in times of prosperity – with a little help from self storage.
Kevin Pratt, an Access Self Storage spokesperson, said: "We have thousands of unique small businesses that store with us at Access Self Storage. The business awards were introduced to reward the hard work of these small business owners. We want to thank all of our entrants for the high calibre of applications and give special congratulations to Sous Chef – we look forward to growing with them and wish them all the best as they become the world's favourite kitchen shopping website."
While everyone likes kudos, you get a wee bit more than that for winning the Access Business Awards. Sous Chef will receive a £4,000 business package from Access Self Storage – including storage and a PR plan from Cannes Lions-winning agency Golden Goose PR.
Pratt concluded: "Of course, while this is Sous Chef's win - and they richly deserve it - it's worth remembering that it was up against truly excellent competition. Bee Good, the honey-based natural beauty specialists, has become one of the UK's most prized brands in its area, and we made sure to recognize this with our 'Highly Commended' honour."
Sous Chef employs the services of Access Self Storage Hornsey. Where will our next winner be found? Twickenham? Coventry? Romford? Could you be one of them? Only time will tell…