As we move into February the shops are gradually filling with Easter eggs and the long weekend in April is starting to play at the back of everyone's minds.

It also means of course, that it's time for our annual Easter egg donation campaign!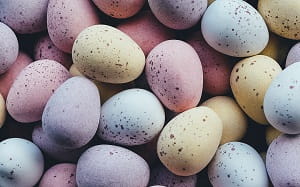 To help spread the joy to those in need at this time of year, our stores around the country are coming together to support a range of local charities. At each of our participating branches we are setting aside some space which we'll be aiming to fill with as many Easter eggs as possible. We'll then distribute all the eggs to their relevant charities in time for Easter.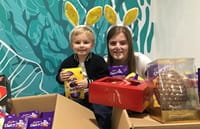 Since we started the campaign six years ago we've collected around 3800 eggs, and we're hopeful that this year will be our best yet. We're collecting for nine charities around the country and encouraging individuals and local businesses to come together in support of them.
All you need to do to help us increase our grand total is to buy a couple of extra Easter eggs next time you go shopping and drop them off at your local Access branch before the 26th March.
In 2017, Access Self Storage Portsmouth claimed the top spot with 152 eggs collected for Rowan's Hospice, a charity dedicated to caring for those with live-limiting illnesses. The Access Self Storage Camberley branch also had a great year collecting 128 eggs for the Frimley Park Hospital children's ward and Access Self Storage Mitcham wasn't far behind with 124 collected for the Salvation Army.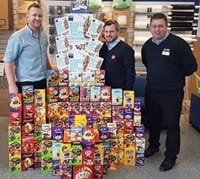 2018 Easter egg appeal - Mitcham Easter eggsWe can't wait to see who collects the most in 2018!
Our spokesperson Kevin Pratt says: "Our previous Easter campaigns have been really successful, and we've been overwhelmed with people's generosity. We hope that this year we'll continue to have everyone's full support and even more people will donate than last. It's a great opportunity to be kind to those in need.
"Each of our participating branches will have allocated space to keep all the donations from the public. We're all really looking forward to getting started!"
We've put together a list of our participating stores and the charities they are collecting for below. Remember you have until the 26th March to drop off your donations so don't put it off for too long.
Thanks in advance for your generosity!

Access Self Storage Mitcham – Salvation Army
Access Self Storage Portsmouth – Rowan's Hospice
Access Self Storage Southampton – The Rainbow Centre
Access Self Storage Purley Way – Children's Trust
Access Self Storage Cheam – Children's Trust
Access Self Storage Sutton – Children's Trust
Access Self Storage Stevenage – Stevenage Haven
Access Self Storage Manchester – Children's Adventure Farm Trust
Access Self Storage Islington – Hackney Foodbank
Access Self Storage Kings Cross – Hackney Foodbank
Access Self Storage Basingstoke – North Hampshire Medical Fund
Access Self Storage Balham – St George's Hospital Charity
Access Self Storage Battersea – St George's Hospital Charity