It's time to think about Christmas – what you're going to get, what you're going to eat and hopefully, what you're going to donate to your local charities! With your help, we want to make this our best Christmas campaign yet. All of your donations, together, will make a real difference to the lives of those less fortunate than ourselves.
We really want to beat last year's efforts, which saw 1,600 presents, including games, books, toys, clothing and even home-made creations given to charity. So far in the seven-year history of the Access Self Storage Christmas appeal, over 4,500 gifts have been collected for charities all across the UK. This is fantastic – and we know we can continue to build on that.
This year, 28 Access stores are participating, each dedicating a 50-square foot room to collect and keep your Christmas donations safe until they are distributed to their relevant charities.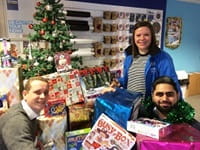 Kevin Pratt, Access Self Storage spokesperson says: "Christmas is all about happiness, community and spreading goodwill. We really want to build on our past appeals and have our biggest year yet, so we're calling on all residents and businesses to start donating as soon as possible. We've selected particular local charities because we truly believe in the work that they do, and we know how much of a difference they can make to people's lives."
If you'd like to contribute you can drop-off your donations at one of the branches below from now until December 14th. Your kindness could make someone's Christmas this year.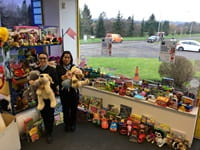 We've put together this list of all our stores and the charities they are collecting for, so you can find your closest one. Click the name of the store for address details, and the name of the charity to find out more about its work and how your contribution will help.
Thank you in advance for your generosity and wishing you a wonderful holiday season.
Participating stores
Access Self Storage Balham collecting for St Georges Hospital Charity
Access Self Storage Basingstoke collecting for St Michaels Hospice
Access Self Storage Battersea collecting for Children's Trust
Access Self Storage Cheam collecting for Children's Trust
Access Self Storage Birmingham Central collecting for Kids Out
Access Self Storage Coventry collecting for Crisis UK
Access Self Storage Croydon collecting for Children's Trust
Access Self Storage Guildford collecting for Royal Surrey County Hospital's Charitable Fund
Access Self Storage Islington collecting for Evelina
Access Self Storage Kings Cross collecting for Evelina
Access Self Storage Kingston collecting for Momentum Children's Charity
Access Self Storage Manchester collecting for Children's Adventure Farm
Access Self Storage Mitcham collecting for Salvation Army
Access Self Storage Nottingham collecting for Rainbows Children's Hospice
Access Self Storage Portsmouth collecting for Rowans Hospice
Access Self Storage Purley Way collecting for Children's Trust
Access Self Storage Reading collecting for Royal Berks Hospital
Access Self Storage Romford collecting for First Step
Access Self Storage Selly Oak collecting for Queen Elizabeth Hospital Charity
Access Self Storage Southampton collecting for S.C.R.A.T.C.H
Access Self Storage Stevenage collecting for Stevenage Haven
Access Self Storage Sutton collecting for Children's Trust
Access Self Storage Twickenham collecting for Children's Trust
Access Self Storage Wandsworth collecting for Children's Trust
Please help us support those in need this Christmas and donate before December 14

th